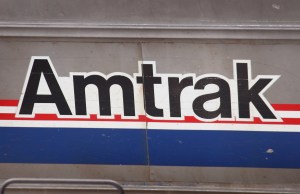 The Obama administration is announcing the recipients of $8 billion for high-speed rail projects that was included in the federal stimulus, and it looks like the northeast, including the Northeast Corridor, which runs from Boston to New York to Washington, will be getting $485 million.
The White House posted this fact sheet with the announcement, which also says the region will get $706 million in Amtrak awards.
The administration went to swing-state Florida to announce the grants. The president is sprinkling the $8 billion around the country, but tossed more than $1 billion at a Tampa-Orlando line and $2.25 billion to California's $42 billion high speed rail project.
There aren't a ton of details in the fact sheet, but despite the large number, there's certainly not going to be any dramatic drops in travel times directly resulting from this. Much of it looks like planning and design for projects in the pipeline, including the final design to replace a century-old bridge used by New Jersey Transit/Amtrak. (This isn't going to come as fantastic news for local rail advocates, who have pushed for more investment in the northeast. There are some similarly priced fixes that could quickly increase speeds that were not mentioned today including the replacement of the electric overhead wires, which would allow speeds up to 150 miles per hour on the Washington to New York to Boston route and shave off some minutes).
[Update: There's a full list here of how the $485 million will be directed around the Northeast. The line from Washington to Boston is getting a mere $121 million, with the rest going to other projects on even less high-speed lines in the region.]
From the fact sheet:
Washington, D.C. – New York – Boston (Northeast Corridor): Funded improvements include major, long-needed projects such as the completion of engineering and environmental work for a new tunnel in Baltimore and a new station at Baltimore-Washington International Airport; final design for a new three-track bridge that will replace Portal Bridge in New Jersey; and track work in Rhode Island.
The awards also included Amtrak money for some tweaks to slower routes, and an unnamed amount of the $706 million spread around the Northeast will be sprinkled around New York for various projects, including some tweaks to the Buffalo-Albany-New York City route.
From the sheet:
New York – Albany – Buffalo: Seven interrelated projects will be funded on this corridor, including construction of new track, signaling and interlocking improvements, upgrades to warning devices at grade crossings, and enhancements to stations in Rochester and Buffalo. These improvements will have significant safety benefits, and will improve on-time performance by an estimated nine percent.
Governor Paterson in the long-term wants more than $10 billion to make a high-speed rail line to Buffalo. The state did not apply for the money to do this (it applied for some smaller projects on the route), and even if it had, it's hard to think the federal government would really want to spend its precious high speed rail money on this route, as it's a stretch to say it has great policy rationale. High speed rail investment is generally considered to be best spent on routes of up to 400 or 600 miles in which there are tons of flights a day, and much traffic congestion (New York to Washington, for instance).