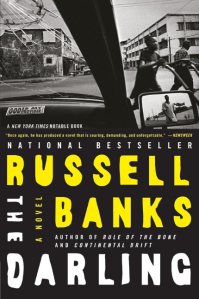 PARK CITY, UTAH—On the morning of Tuesday, Jan. 26, during the first and welcome lull of the Sundance Film Festival, novelist Russell Banks met The Observer after finishing an early run in the snow.
Mr. Banks is one of five jurors—among them, Park Posey (The Actress); Jason Kilot (The Producer); Karyn Kusama (The Writer/Director); and Robert Yeoman (The Cinematographer)—for the festival's dramatic competition. That he is best known for his stories and novels, two of which, Affliction and The Sweet Hereafter, have been adapted into acclaimed films, makes him—at first glance—a kind of anomaly among the jury. 
"We have 16 films to see," he said, lounged in a long-backed chair adorned with crocheted elk on the upper level of Sundance Headquarters, which is housed in a Marriott, "and we're having really fine conversations." (Only he can't discuss any of them.)
Mr. Banks, 69, is a large guy with a slow, considered gait that mirrors the way he talks, and silver hair that's trimmed short, about the same length as his beard. His smile reveals teeth that have a bit of space between them, like those of a boy a fraction of his age.
"All of us bring a different range of experience and insight," he said. "Naturally, I'll be paying considerably more attention to story, structure, drama, characters, than I would to the camera-work."
Mr. Banks, a co-founder of the Lake Placid Film Festival, isn't in fact a stranger to the film industry. Almost seven years ago, he adapted On The Road for Francis Coppola, who, he said, bought the rights to the book in full and has been obsessing over it ever since (which is to say: the project continues to languish). He's adapted his novels Cloudsplitter and Rule of the Bone, and Martin Scorcese is slated to direct an adaptation of Mr. Banks's 2004 novel, The Darling, starring Cate Blanchett.
Upon hearing that a French publisher has just released a graphic novel of his short story "Sarah Cole: A Type of Love Story," we asked Mr. Banks whether films, in their construction, have a closer relation to short stories or novels.
"I've heard that about short stories," he said. "But I think novels make better movies. Novellas are ideal. It's better to cut than to add, I think. But what you want in a feature—multiple story-lines involving several characters—often short stories just don't have enough."
Is there a difference in the appreciation of a narrative in a book and the narrative on a screen?
"Reading is much more creative," he said. "The experience of film is a passive one. The audience is locked into the flow for two hours, without any sort of control."
He went on to talk about how the means of telling a story has changed so dramatically since he was younger.
 "When I was 25, it was very difficult to imagine you might be able to make a movie," said Mr. Banks. "I wanted to tell stories, and the easiest means of doing that was to write prose. I'd be drawn very much more to film if I were that age now. You just need a Mac and a digital camera."
He paused.
"I think I'd probably have become a filmmaker."