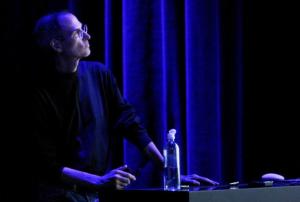 Apple continues to tantalize the public with carefully leaked droplets of tablet news. Today, The Wall Street Journal offers fresh details. Virtual keyboard! $1000 price tag! Textbooks! TV subscriptions!
And, maybe most importantly: making overtures to the media purveyors of yore. Chatting with The Times and Condé! Hanging at the Frankfurt Book Fair!
According to The Journal:
Mr. Jobs has a longstanding strategy of devising new ways to access and pay for quality content, instead of reinventing the content. Apple's iTunes Store, for instance, became the world's largest music retailer partly by making it easy for people to buy music, most of it from major record labels, by the song instead of by the album….

Mr. Jobs is "supportive of the old guard and [he] looks to help them by giving them new forms of distribution," says a person who has worked with the CEO.
But as Gabriel Sherman wrote last night, The Times and other members of the "old guard" have reason to be ambivalent about Apple's approach to the tablet:
With iTunes or an Apple-controlled online store, publishers will be cut off from their readers. Apple will handle payments and Apple will control all the lucrative demographic information that publishers collect to sell to their advertisers. The tablet may vastly improve the mobile reading experience, but in terms of providing a business model that publishers will leap to adopt, there's a strong case to be made that the Times and others shouldn't fall prey to the iTunes trap.

In announcing its semipermeable pay wall today, the Times is signaling that it wants to be in control of its vast readership and fully monetize its audience.
Sources tell Sherman that, despite the timing, the paywall decision was not made in consideration of next week's expected tablet unveiling.