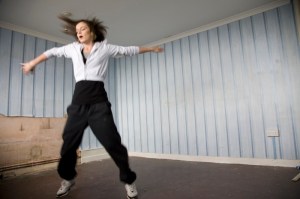 Fish Tank
Running time 123 minutes
Written and directed by Andrea Arnold
Starring Kate Jarvis, Michael Fassbender, Kierston Wareing
Michael Fassbender, the versatile, highly acclaimed, Irish-raised hunk who nearly starved himself to death as IRA hero Bobby Sands in the harrowing Hunger before winning more applause in the colorful role of a brutal Nazi hunter in Quentin Tarantino's Inglourious Basterds, is in top form in Fish Tank. But the real star is Katie Jarvis, a newcomer with no previous experience who plays a teenage social misfit in a bleak housing project looking for love in all the wrong places. It's a debut both raw and astonishing.
The second film written and directed by Andrea Arnold (Red Road), an exponent of the Ken Loach film school of naturalistic dialogue and kitchen-sink naturalism, Fish Tank is a heartbreaking coming-of-age story about 15-year-old Mia (Jarvis), a tortured, combustible girl who lives in an ugly subsidized housing estate with her combative younger sister and foulmouthed, slatternly mother, venting her pent-up rage on her family, classmates and neighbors. Except for getting into trouble and harboring a passion for hip-hop dancing, Mia has no outlet for her wasted energy. Until, that is, the arrival of her mother's sexy new boyfriend, Connor (Fassbender), a security guard who takes the time to bandage the wound when she cuts her foot, slips her an occasional slug of vodka and extends the kindness and friendship she has been missing in a father of her own. Behind her mother's back, he even encourages her to audition for a dance contest, selecting a more sophisticated song to emphasize the body movements of a mature woman. The sexual attraction is immediate, followed by inevitable jealousy and resentment when Mia secretly watches he and her mother making love through a crack in the bedroom door. It's only a matter of time before the man and the girl turn flirtation to lust. For a fleeting moment, Mia experiences purpose, and something new in her mind called peace. It's a pipe dream. At war with the world already, Mia has her attraction to the older man turn ferocious when she discovers he is not only emotionally unavailable but hiding a secret that courts disaster. These are not easily likable people, but Ms. Arnold's chief talent is the way she makes us understand and even sympathize with both their flaws and attributes. The people in Fish Tank are neither good nor bad, but merely human, with elements of both.
Though plagued by accents that are not always to understand, Fish Tank excels on more than one level—as both a girl's fairy tale fantasy of romance among the vacant lots and factory whistles, and as a sharp-focused vision of working-class squalor and despair in the U.K. today. As Mia feels trapped in her caged life, it is no mystery why she reacts so violently to a chained horse in a nearby lot, or why she tries to free a fish caught on a hook, or why she sees in Connor her first ticket out of the fish tank that is her life. Miraculously, the harsh environment is laced with lyricism and a generosity of feeling.
First-rate acting is required to bring this kind of dichotomy to life, and Ms. Arnold is an ace when it comes to drawing real emotional truths from her actors. Since Connor is softhearted and seductive, it is essential that the actor playing him is appealing enough to make him plausible even when his dark side surfaces. Mr. Fassbender is irresistible. His charisma is undeniable. And he is matched by Ms. Jarvis, whose verbal explosions and painful expressions never surrender to sentimentality or lost-child clichés. The ending is not depressing. Out of the chaos of Fish Tank, there is hope.
rreed@observer.com