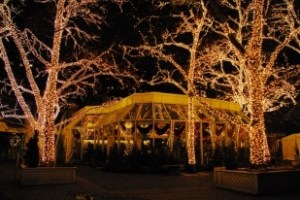 The Tavern on the Green is now closed, and everything except its $19 million name is up for auction.
Yesterday, the restaurant opened its doors for a preview of the wares to be sold next week. The 1,000 lots range from $100 to $1.2 million in estimated value.
The Times talked to some of the prospective buyers who visited. They were enthusiastic, but not without reservations:
"I'd like to put the King Kong topiary on my terrace, but the cost is $50,000 and the co-op board might not approve," said Jeffrey Levitas, a real estate broker at the Corcoran Group. "But I'm thinking these lanterns might work."
Also available: large bronze cow heads, many samovars, and men's suiting in a variety of bold prints.