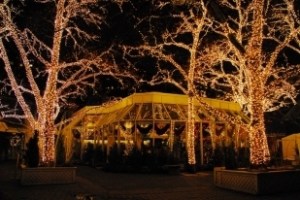 A judge ruled yesterday that the Tavern on the Green Chestnut Room's wood panelling can be auctioned off to pay the LeRoy family's creditors. Removing it will not be "irreparably damaging" to the restaurant's physical structure, he determined, even though it is "fashionable for its rusticity" and provides 3,800 square feet of the building's walls. The three-day auction of Tavernalia begins today.
Or, as The Times Diner's Journal blog puts it:
The donnybrook over the Wormy Chestnut Wood, a legal battle between New York City and the family of the restaurateur Warner LeRoy, is over. And just in the nick of time.
Tavern on the Green beat blogger Glenn Collins may be getting antsy.