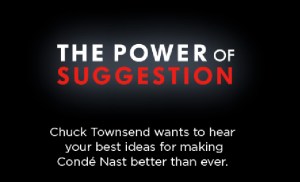 Step right up, boys and girls, it's a Condé contest! And Si Newhouse and Chuck Townsend want to hear from YOU!
In the lobbies of 4 Times Square and Condé's buildings on Sixth Avenue and Third Avenue, you'll find a flyer with the words: The Power of Suggestion.
Mr. Newhouse and Mr. Townsend want to hear your ideas about making Condé Nast better than ever. (Read: Help!)
Is this a sign of the warm-and-cuddly Condé Nast, as we told you about last week? Or an indicator of just how truly desperate things are over there?
"It's all about inclusion!" offered one rather optimistic source.
For the rest of the year, once each quarter, the Condé Nast employee with the best idea about improving the company will receive-you ready?-a prize of $10,000.
Instead of dropping seven figures on McKinsey, perhaps Condé should have drafted its own employees for guidance.
jkoblin@observer.com