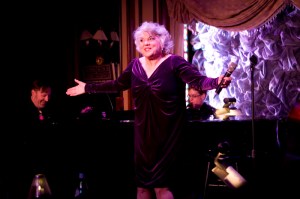 Tyne Daly
Feinstein's at Loews Regency
With her thick mane of white hair and red patent leather high heels, and thickening a bit around the middle, Tyne Daly is as warm and welcoming as an open hearth. From the star-spangled banner of an opener, with new lyrics to enhance what Irving Berlin wrote for Ethel Merman on "I'm the Hostess with the Mostess on the Ball," to a stunning medley of optimistic Jerry Herman songs for women in their prime, from Dear World, her wonderful act at Feinstein's at Loews Regency (through Saturday) is a rare gift, like spending quality time with your talented Aunt Tillie.
With undisputed enunciation and unbridled enthusiasm, the Tony and six-time Emmy winner has assembled a flawless collection of old warhorse evergreens, Broadway standards, American Songbook classics, an occasional novelty tune (Leonard Bernstein's "I Can Cook Too" is hilarious) and a lot of surprises. Her duet with pianist John McDaniel on Rudy Vallee's theme song, "My Time Is Your Time," seems to come right out of the old Motorola. The nostalgia continues without removing her Harvard-Yale corsage on Vallee's own chestnut "Betty Co-Ed." Did I say eclectic? You're not going to hear that one in any other cabaret act in town. She's the only singer except for jazz stylist Eden Atwood to put her own spin on Al Jolson's trademark weepie, "Sonny Boy." This may sound like a cross between Sunday school and the junior prom, but she unveils each song with a serious affection and musical introspection that explains why certain songs withstand the test of time, like Ms. Daly herself.
Mixing Tin Pan Alley charts with down-and-dirty wailers like Bessie Smith's "Send Me to the 'Lectric Chair" and ballads like Lew Spence's "That's Him Over There" (lyrics by Marilyn Keith, who changed her name to Marilyn Bergman and made history), she shines, musically and vocally, investing each song with wit, imagination and love. Pleasant and funny, Ms. Daly sings "in the moment." She doesn't sing arias; hold the right notes at the wrong moments to impress; or exhibit perfect breath control and belting brio in order to show off. She goes further. Dividing up stanzas every eight bars like musical chains of thought, she makes singing conversational. "People have been breaking each other's hearts for a long time," she says, and now she knows why—"so we can have popular songs." She'll break yours, too, but you'll go away smiling.