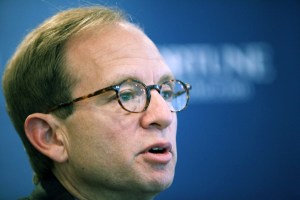 In 2006, when Harold Ford, Jr. was mounting an uphill campaign for one of Tennessee's seats in the Senate, private equity man Steve Rattner and his wife, former Democratic National Committee finance chair Maureen White, hosted an event for the young scion of Tennessee politics inside their 25-room apartment at 998 Fifth Avenue.
It was a glamorous combination–the smooth, upwardly mobile young congressman and the influential alpha couple–and Mr. Ford went on to raise nearly three million New York dollars for his contest.
At the time, no one would have predicted that, just four years later, with a Democratic administration in place, this candidate and that couple would be fomenting insurrection. Fifth Avenue, after all, is an odd staging ground for a popular revolution, and Mr. Rattner and Ms. White are unlikely revolutionaries. Yet, in the past month, as a potentially difficult year dawned for the Democrats, the party's preeminent power-couple pledged to back not one, but two primary challengers: Reshma Saujani, a 34-year old attorney challenging nine-term incumbent Carolyn Maloney; and, for a second time, Mr. Ford, now a carpetbagging former congressman who's mulling a challenge to Senator Kirsten Gillibrand.
"The party does not like contested primaries as a rule," Ms. White conceded to the Observer in a brief interview about Ms. Saujani's candidacy last month. "As you can imagine, they think they're a waste of money. But I think the district that [Ms. Saujani is] running in is clearly a very, very important district and I think it should have very, very good representation."
Last week, Mr. Rattner–who, as a former Times reporter and a close friend of Arthur Sulzberger, Jr., knows the value of a good quote–went on the record touting Mr. Ford's candidacy, igniting what had been only smoldering rumors of a possible run. (Since then, the story has churned almost daily in the Times, generating considerable free press and culminating in a Tuesday editorial supporting the idea that someone should challenge Ms. Gillibrand.)
Such behavior, in the exclusive world of liberal super-bundlers, is shocking, and complicated.
"I don't know what's going on," said Fern Hurst, a philanthropist and major contributor to John Edwards' presidential campaigns. "Certainly the people who they are challenging are good servants of New York and I don't know what their motivation is."
The support of Mr. Rattner and Ms. White strongly suggests the two fledgling candidates might be able raise the requisite funds to–at the very least–get their message out, and to continue to profit from a free-media process narrative. Ms. White famously raised $51 million for Democrats in 2005, an "off" year, and her retirement party, held at the Mandarian Oriental in 2006, raised more than a million dollars.
"I have great respect for Maureen and Steve, but I'm surprised by this" said Sarah Kovner, a member of Senator Gillibrand's finance committee.
"Let's face it, when [Mr. Ford] ran, we were all supporting him," said Ms. Kovner. "We were very concerned, almost desperate, to win back the Senate and the House. I supported him, gave substantial amounts of money. Yeah, we liked him, but we gave him a pass on a number of things, because he was from Tennesesse. I would say to people 'He's not running on the West Side of Manhattan.' He's not taking positions on things that we would necessarily like.'"
In response to such puzzlement Ms. White says the explanation for her recent behavior is actually very simple.
"I supported him because I've known him for a long time. I wasn't just supporting him as a generic Democrat who wanted to pick up another seat for the Senate. I was supporting him," Ms. White said. The two met before Mr. Ford met most of the rest of New York–when he launched a very national Senate bid in 2006–having been introduced by Ms. White's brother when Mr. Ford was serving in the House.
"To a large extent, I worked hard to elect Democrats because I wanted my issues back on the table," she said. "I indiscriminately supported Democrats because I wanted to have ownership of something. Now we have ownership of everything. Now I just want really quality people in there. I want the ones we've elected to do what they're supposed to do and the ones who are mediocre, I think we should get better representation."
Rich-People Rage
"I think it's a mistake to look at this through the prism of insurgency," wrote Stuart Appelbaum, the president of RWDSU and an outspoken defender of Ms. Gillibrand, in an email to the Observer. "They are not trying to tear down the establishment that they are part of. Instead what they are really doing is supporting candidates who are more conservative and pro-business than the incumbents. There is an ideological makeup to what they are doing."
Like Mr. Rattner–who founded the Quadrangle Group, a private investment company, in 2000–both Mr. Ford and Ms. Saujani have worked in the financial services sector. He was the vice chairman and senior policy adviser for Merrill Lynch for the past three years, and she was deputy general counsel of the liquid markets business for the Fortress Investment Group.
"I think that they're going to have overlapping support because they have overlapping professional experience with respect to financial services, which is, by the way, where all the donor money comes from anyway. If you take out investment banking, hedge funds, private equity and real estate, who else is writing checks? There aren't that many trust-fund babies that aren't in business too," said a hedge-fund and private-equity executive and longtime Democratic donor.
"With Reshma, there's people who want to develop dynamic new talent with dynamic new ideas and approaches," wrote a political consultant, who supports the couple's efforts, in an email to the Observer.
"The other race is not the same thing, it doesn't work exactly the same. In the Senate race, the establishment's process is broken, it's broken. She wasn't ever elected. She was the product of the Clinton, Schumer and Cuomo families who were happy that Caroline didn't get it," the consultant wrote.
"There's two different things at work in these potential match-ups. The underlying concept is the idea that New Yorkers should have the choice of Democratic candidates who are dynamic, and are going to do things."
The choice just happens to be in conflict with the White House.
Ms. White cautions against reading too much into what seems very much like a calculated act of defiance against the administration her husband used to work for–and in which she now serves, working on refugee issues in the office of Richard Holbrooke.
"I definitely am not unhappy with the Democratic administration. In fact, the exact opposite is true," Ms. White said. "I am very, very pleased with the Obama administration. I really like what they're doing on the things I care about. I just feel a new burst of energy and focus on issues that I've worked on for a long time."
Decentralized Power Brokers

In some respects, what Mr. Rattner and Ms. White are attempting to pull amounts to a sort of regional coup.
"It's a showdown between the Washington power circles and our New York donors. The response in New York is, 'Damn the vermouth. Full speed ahead!'" said Robert Zimmerman, a bundler and DNC member.
Ms. White said–given her duties under Mr. Holbrooke–she's not as focused on politics as she once was, and, in fact, spends a great deal of her own time in Washington these days. So, a coup of New York donors might need other leaders–like, perhaps, her former foil on President Obama's campaign, Orin Kramer.
"Harold happens to be a close friend, but beyond that, he is regarded by many people as one of the most electrifying talents we've ever seen," said Orin Kramer, an über-bundler who broke with Ms. White and the rest of the local political establishment to support Barack Obama early in the presidential campaign. "There are a lot of people who would like to see someone in the mold of Robert Kennedy, Jacob Javits, Pat Moynihan, Hillary Clinton, Chuck Schumer."
The question is whether any amount of fund-raising help will allow an insurgent to overcome opposition from party leaders who remain, for now, behind Ms. Gillibrand.
"I think in any race those aren't knowable things for any candidate. But what I would say is that, there's a very substantial group of people-here and nationally–who regard Harold as someone who is extraordinarily talented and would represent something special for New York in the Senate," Mr. Kramer said.
"It sounds reasonable, the question is what it's going to add up to?" said Dennis Mehiel, a member of Senator Gillibrand's finance committee, which has staked the senator to a $7 million headstart. "She has a tremendous cross-section of financial supporters and her numbers are reflective of that."
"Chuck Schumer is no wallflower on Wall Street," he added. "That's divided turf. If someone down there is mad at Kirsten for this or that, or mad at the White House, then that helps Harold. But the guys on Wall Street are smart too, and at the end of the day, they're going to have to conclude that there's a path for Harold to win."
As for Mr. Rattner and Ms. White, Mr. Mehiel said their decision to support two challengers is "perplexing"–and significant.
"Can Maureen and Steve raise some money for Harold? Yes, I think they can," he said. "I know Steve and Maureen. They're good people and I wouldn't say a bad thing about them. She clipped me for some serious bucks more than once."