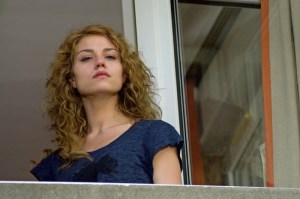 The Girl on the Train
Running time 105 minutes
Written by Odile Barski, Jean-Marie Besset and André Téchiné
Directed by André Téchiné
Starring Catherine Deneuve, Émilie Dequenne, Michel Blanc, Nicholas Duvauchelle
The Girl on the Train, not to be confused with Girl on Train, Party Girl on Train or Lady on a Train, is the newest film by French auteur André Téchiné, and the unconventional dramatization of a true news story in 2004 in which a young woman told a senseless lie claiming to be the victim of an anti-Semitic attack on a Paris commuter train—an event that dominated the French press and polarized the country.
Catherine Deneuve, matronly but still captivating at 67, plays Louise, the girl's mother—a widow living in the suburbs who ekes out a living as a baby sitter while trying to make a better life for her daughter Jeanne (Émilie Dequenne). Jobless and uninspired, Jeanne would rather spend her time rollerblading on the banks of the Seine. Turning to the Internet for ideas, Louise finds a want ad for a secretarial position in a law firm owned by one of her old flames, a renowned attorney and Jewish activist named Bleistein (Michel Blanc). With a lot of attitude but no experience, Jeanne fails her interview with the old man's former daughter-in-law, Judith, preferring to join her new boyfriend, Franck (charismatic French newcomer Nicholas Duvauchelle), a budding wrestler, as a caretaker in a shady electronics warehouse that turns out to be a covert operation for drug smugglers. After Franck is knifed in a violent encounter and sentenced to 10 years in prison, Jeanne's mother calls once again on her old friend Bleistein to keep her daughter out of jail. Angry and devastated by Franck's rejection of her, and determined to lash out at somebody, Jeanne paints swastikas on her stomach, slashes her face with scissors and makes up a fictitious story about being attacked by neo-Nazis who mistakenly believed she was Jewish. The story makes front-page headlines and catapults Jeanne to a notoriety that shames her poor but respectable mother. Catherine Deneuve, in her fifth Téchiné film, has a tertiary role, but she's the only one who riveted my attention from one scene to the next. The film is based on a play, but it is to the director's credit that it never shows the claustrophobic trappings of a proscenium stage.
The movie is divided into two parts—"Circumstances" and "Consequences." Part one catalogs the events that lead up to Jeanne's 15 minutes of fame. Part two is about the repercussions of her reckless lie that capture the attention of everyone from reporters on a feeding frenzy all the way up to the president of France. Too densely populated for its own good, The Girl on the Train introduces a vast cast of characters, from Jeanne's present-day struggles with Franck to the three generations of the Bleistein family associated with Louise's past—the grandfather, an agnostic and a Communist; his son Alex, a radical atheist (played by Mathieu Demy, the son of acclaimed directors Jacques Demy and Agnès Varda); and cynical grandson Nathan, who is having a bar mitzvah to please his mother, Judith. Then there is Judith herself (Israeli actress Ronit Elkabetz, who made a splash in The Band's Visit)—a divorced outsider, an Orthodox Jew and the only religious member of the entire family. This is too many people to keep up with, and Mr. Téchiné is too long-winded to introduce them with the brevity the movie demands. By the time he gets around to the legal ramifications of what Jeanne faces in court by falsely reporting a crime, The Girl on the Train loses momentum and just seems to be racking up a lot of unnecessary running time to save it from becoming a one-hour television show.