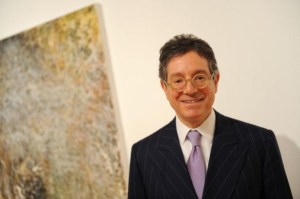 As The Observer's Leon Neyfakh reported yesterday evening, Deitch Projects will "cease operation" when Jeffery Deitch moves to MoCA June 1. In the meantime, the art world is analyzing how his background has prepared him for the directorship of a troubled museum.
In a column for The New York Times, Roberta Smith calls Deitch's appointment "a brilliant stroke." A dealer may be an unorthdox choice, but Smith says that Deitch (as well as newly chosen Cooper-Hewitt director Bill Moggridge) may signal "a return to basics in American museum culture."
The real problems, Smith writes, might lie less with Deitch's lack of museum-world experience than with the circumstances that led to his appointment–the cash-strapped MoCA stayed afloat last year only with $30 million from former board chairman Eli Broad, who gained "an unusual degree of control" with his gift. He is "understood to have been heavily involved" in choosing Deitch, as he was in the appointment of former Dia head Michael Govan to lead the Los Angeles County Museum of Art:
The idea of this one rich man having so much say in the city's official art culture is, at the very least, unnerving to many. Of course, Mr. Deitch's history of financial involvement with the work of certain artists is worrying to some.
Politics aside, Deitch brings some unusual experience to the table. Bloomberg News notes his history in the world of big business and big institutions:
Bespectacled and favoring tailored suits, the Harvard-educated Deitch started his career as a Citigroup Inc. vice president where he developed an art advisory and art-financing business. Unlike many dealers, Deitch has also curated museum exhibitions and written show catalogs.
Which should come in handy–because although Deitch won't assume his new position for another few months, The L.A. Times points out that he already "has his work cut out for him":
Deitch said one of the best cards he holds is his long-standing relationships with art collectors around the world. Having sold them art, he'll try to sell them on giving large sums of money to MoCA, in hopes of delivering the museum from what he describes as an "austerity budget."
For his part, Deitch appears confident.
"I feel as if I've been training for this position my entire life," he told The Times