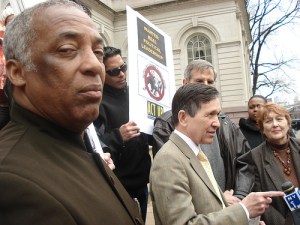 Christine Quinn is putting the finishing touches on her list of committee assignments.
One of the questions is whether or not she'll reappoint Charles Barron as chairperson of the higher education committee. (The display by his supporters during the hearing yesterday may give her some new excuses for stripping his chairmanship.)
How he got there in the first place is another question. Barron was initially appointed to that committee by Quinn's predecessor, Gifford Miller.
Jeff Wiesenfeld, a former Pataki aide, current CUNY Board of Trustee and longtime Barron antagonist, was on the Zev Brenner show recently, making this point:
"Look, I told Gifford Miller, Christine Quinn's predecessor, when this guy was first appointed. 'Giff, this will be your legacy. People will remember you for him because he will outlast you and he will create disruption and problems.' Giff Miller appointed him."
In a brief telephone chat, Barron said, jokingly, "God appointed me, and he used Gifford Miller to deliver the message." Later, Barron defended the outburst by his supporters—"that happens"—and explained his comments about segregation during the meeting was about the seating offered to the audience.
"The section, to the right, up front? That was all white," Barron said.