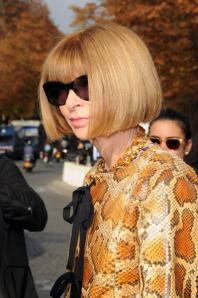 The Vogue editor is fighting a condo tower that would loom over the garden adjoining her Sullivan Street townhouse.
Wintour sent a plea to the Landmarks Preservation Commission (on Vogue letterhead, no less) last February calling developer John Wu's plans "totally out-of-scale," "inappropriate," and "unwelcome," reports the Post. And "as recently as last week" she was writing to Christine Quinn to express her displeasure. The Department of Buildings has warned Wu that they will revoke his approval if he doesn't reduce the building's height. He plans to fight their decision.
Should the garden fall into shade for a prolonged period of time, Wintour will be forced to reduce her metabolic rate and grow sluggish in order to withstand the lower temperature.