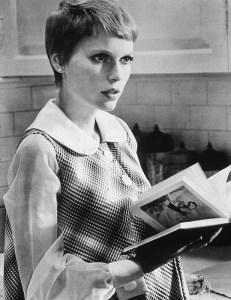 Called "the Swiss watchmaker of suspense novels" by Stephen King, Ira Levin set the bar for thrillers as the master of macabre. "He makes what the rest of us do look like cheap watchmakers in drugstores," Mr. King continued in his 2003 introduction to Rosemary's Baby, Levin's best-known novel, thanks largely to Roman Polanski's 1968 film adaptation, starring Mia Farrow and John Cassavetes.
Levin, who died in 2007, spent some of his last days in a spacious Park Avenue two-bedroom; the apartment, at 1172 Park Avenue, has remained in the family. Until now. City records reveal the top-floor apartment in Carnegie Hill was recently sold for $2,050,000 to philanthropist Dorothy Tananbaum.
According to his obituary, Levin died "of natural causes" at 78 years old, a rather mundane passing considering the cult figure's predilection for eliciting creeps and curiosity.
His oeuvre was limited, only seven novels in 40 years, though his signature celebration of the occult and the spooky is etched indelibly in the psyche of American culture. The most famous of his seven novels-Rosemary's Baby, The Stepford Wives, A Kiss Before Dying and The Boys from Brazil-have all been made (even remade) as feature films. Obituarist Margalit Fox, writing in The New York Times, explained Levin's deftness at combining "elements of several genres-mystery, Gothic horror, science fiction and the techno-thriller," and described his novels as conjuring up "a world full of quietly looming menace, in which anything could happen to anyone at any time."
Published a year after the public announcement of the founding of the Church of Satan by Anton La Vey and the media interest that followed, Rosemary's Baby is credited with helping to spread the popularity of Satanism. La Vey, who, according to the Web site ChurchofSatan.org, was hired as a consultant for the film and made a cameo as the devil, called Mr. Polanski's adaptation "the best paid commercial for Satanism since the Inquisition." (Mr. Polanski, under house arrest in Switzerland, could not be reached for comment.)
Rosemary's Baby, which made the Dakota on Central Park West the most famous residential building in the world for a time, isn't the only example of Levin's work moored thematically to the story's setting. His lesser-known novel, Sliver, adapted for the screen with Sharon Stone, focuses on a flashy skyscraper, Sliver Heights, that hides dark secrets under its glittery facade. The Stepford Wives dared to delve into the underworld of suburbia, unearthing macabre possibilities for Levittown-like Edens.
Though Levin chose the Gothic-style Dakota as the setting for Rosemary's Baby, the writer never lived in the famed site of John Lennon's assassination. Neither did he end his days in suburbia or in a glassy sliver of a building. When Levin did purchase a Manhattan apartment, he chose a classically designed one.
At the corner of 93rd Street, 1172 Park Avenue is an elegant 15-story building designed in 1926 by pioneering luxury apartment architect Rosario Candela. The block has been called "one of the city's most impressive" by CityRealty, and sits directly across from perhaps New York's finest Georgian-style mansion and to the east of one of the city's finer neo-Classical mansions.
The listing was represented by Brown Harris Stevens über-agent John Burger. Mr. Burger explained to The Observer that the family had chosen Brown Harris Stevens because of its reputation for discretion, and, with the family's desire to avoid media attention, declined to comment further on the sale. Ms. Tananbaum declined to comment, and when she was asked for a tour of the apartment, she apologetically told The Observer that it was already "under demolition."
Although most apartments in the building boast 11 or 12 rooms with five baths, Levin's former apartment was a modest two-bedroom, two-bathroom. Originally listed at $2.5 million in April of last year, the "spacious pre-war residence" was featured in Architectural Digest and boasts a columned 15-foot gallery and 40-foot entertaining area. Perfect for dinner parties, or séances.