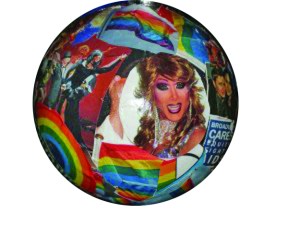 There is a warehouse 20 minutes from the White House. It houses all the holiday decorations from presidential administrations past. To poke through this twinkly archive is to examine U.S. history. Here lie giant spools of Nancy Reagan's favorite red ribbon, as lush and thick as the shoulder pads on an Adolfo socialite suit. What's on that crate? Oh look, it's Pat Nixon's beautiful balls, beaded and stitched with Faberge-esque anal-retention. Not everything in the warehouse is labeled. It's fun to rummage and play guess-the-first-lady. From chic hand-painted Venetian baubles (Jackie Kennedy?) to glitter-encrusted disco twigs (Betty Ford?), the range of Yuletide adornments is both staggering and fascinating.
It was among this treasure trove of vintage szhoosh that I came upon several massive crates containing large nasty shiny plastic balls. They did not exactly scream "Martha Stewart." Au contraire!
Approximately 6 inches in diameter, they resembled something that might dangle from the ceiling of a '70s gay bar or a doomed shopping mall. Setting aside the question of why anyone ever saw fit to introduce such tacky items into the White House, I grabbed them, all 800 of them. I was on a mission. A secret mission. Permit to explain:
Last spring, Desiree Rogers, the glamazon White House social secretary, invited me—are you sitting down?—to help decorate the White House for the holidays!!! I felt honored and stunned but not, if I am to be honest, totally surprised. This may sound arrogant, but if not me, then whom? With more than 35 years of Holiday decorating at Barneys and elsewhere, I am, après tout, one of the most experienced elves in the land. Why, conservative blogger Andrew Breitbart (more on him in a moment) was still in diapers when I began practicing my craft.
My accumulated holiday savoir-faire did not stop me from being utterly terrified by this fabulous project. The responsibility! The gravitas! The White House! What would happen if I screwed it all up? What would happen if it all turned out looking all horrid and naff? What would happen if some self-appointed Web luminary blogged about some infinitesimally small aspect of my holiday décor, thereby setting off of a gruesome and hostile Internet fatwa? But let's not get ahead of ourselves.
MARCH 2009: MEETING DESIREE.
Why do I feel as if I am standing in a hole? Because the gorgeous and statuesque Desiree Rogers is 5 feet 10 inches tall, that's why.
During lunch at Fred's, La Rogers pulls a legal pad out of her Vuitton shoulder bag. She reads me notes taken at a meeting with Mrs. Obama the previous day: Reflect. Rejoice. Renew. This mantra will serve as my guiding principle for the first Obama Holiday.
I suggest that we incorporate some children's art. Desiree agrees and goes on to tell me about the above-mentioned warehouse. A light bulb goes on. Let's combine the kids' art with a recycling moment! Maybe there will be some big gnarly ornaments from some past administration that can be customized, painted and repurposed. Reflect. Rejoice. Renew. Recycle.
SEPTEMBER 2009: MEETING MRS. OBAMA
During the summer, I made repeated trips to our nation's capital to meet with Desiree and her incredible team of collaborators and volunteers, plus the legendary W.H. flower-shop team. At the helm: Sally Armbruster, Desiree's assistant, and, most importantly, a top-notch event/set designer named Kimberly Merlin. La Merlin shouldered the bulk of the planning/creative-resourcing responsibility. I provided the overarching vision while Kimberly creatively whomped a solid design proposal together with unerring artistic elan, i.e., she did most of the work. Bravo, Kimmy!
By September, Desiree, Kimberly, Sally and I were ready to unfurl our reflect/rejoice/renew/recycle game plan to Mrs. Obama.
Why do I feel as if I am standing in a hole? Because Mrs. Obama is 5 feet 11 inches tall, that's why.
The first lady—she dresses with the chic understatement of a Mona Lisa Smile Wellesley gal, circa 1950—looks outstanding in a navy blue and apple green summer dirndl-skirted dress with a waist-accentuating argyle cardigan. She bends down and gives me a hug and thanks me for my hard work. I'm kvelling.
We show her our boards and swatches and talk her through the vast and complex proposal of wreaths and trees and garlands, East Wing, West Wing, the Nativity, Residence, Oval Office, etc., etc. She interjects great ideas and keeps us on track. In a lifetime filled with presentation meetings, this was, for me, the easiest and the most pleasurable. Our first lady has great taste. She is a quick study. She is delightful and cultivated and inhabits her current role with grace and intelligence.
Her long-standing interest in style makes the process easy: She likes the "softer, more Romeo Gigli colors." She agrees with my suggestion that we should use "a Lanvin-ish antique-looking glitter" instead of anything too sparkly. While Mrs. Obama loves the idea of "the Wish Tree," an interactive piece created by a Hoboken-based company named Cardboard Design, her most enthusiastic response is reserved for the 800 recycled silver balls that are proposed for the monumental Blue Room Tree. Together we decide that decoupage, rather than painting, is the way to go. Mrs. Obama suggests that we include the efforts of not just kids, but people of all ages at community centers around the U.S. The theme? Great American Monuments.
Before you can say "Bo, the Portuguese water dog," the balls are shipped off by Sally and her interns to diverse organizations in every state. We include a jug of Mod Podge and a directive written by yours truly on the pitfalls and pleasures of decoupage.
DECEMBER 2009: TIME TO MAKE THE DOUGHNUTS
The installation of the holiday décor follows close upon the Manolo heels of the Salahi party-crasher debacle. As a result, security is tight. All the incoming boxes of pepper-berries, hydrangeas and pine garlands are sniffed and prodded. Extra precautions are taken with the 800 formerly-hideous-and-now-hopefully-fabulous silver balls. Coming as they have from such a broad spectrum of locations, they represent a complex security challenge. I am itching to take a look at the results. This will be my first encounter with the hundreds of returning orbs. Finally, they are released and delivered to the Blue Room. I dive into the boxes.
The citizens of the United States of America have done a bang-up job. The balls are the perfect mixture of wholesome holiday cheer, patriotism, creative expression and fun. While there is no shortage of Mount Rushmores, Niagara Falls and Grand Canyons, most of the creators took a more small-town route, commemorating local landmarks and institutions. Inhabitants of an Indian reservation fringed and beaded theirs with extraordinary skill. One clever person turned his/hers into a Georgia peach. So far, so good.