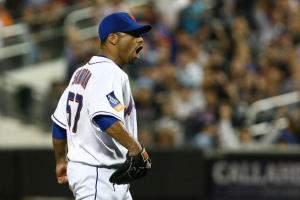 Get ready for six months without Rex Ryan. Three days after the Jets' surprise season ended in Indy, both back covers belong to Johan Santana, who threw 25 pitches to an 18-year old catcher in Florida yesterday. The Daily News was there:
The ace howled in delight after one changeup. "It was a pretty good one," Santana said. "It had that nice motion. It's good to see that this early. That's telling me we're way ahead of the game."
The Post says this is big.
It was big that Santana came through in flying colors. Despite all the crazy setbacks the Mets have had, despite all the players who have decided it's best for them not to become a Met, don't overlook the biggest news. Johan Santana is healthy and ready to lead.
Both papers actually spill considerably more ink on the Knicks and Nets, but that shot of the empty Izod Center probably wasn't going to sell a lot of papers. The Nets, after all, are 3-40. There is no Santana-like optimism in Jersey.
"This is torture, man. It's torture when you think about it. It's really — it's bad. It's bad, man," said [Chris] Douglas-Roberts, who acknowledged the despair of losing had affected his game.
Surely, things will get better. Or perhaps not.
"That last road trip felt like [we hit rock bottom]. It definitely did, because we're not even competitive now. But we'll see. It could get worse."
Filip Bondy says it's not even funny how bad they are and sets the decidedly ambitious goal that the Nets just try to avoid being the all-time worst team.
Nobody but Casey Stengel ever derived much amusement from losing. So no matter how easy it is to poke fun at the Nets this season, or to remind them they are well on the way to becoming the most certifiably horrible team in NBA history, it's tough to laugh directly into those long faces.
The Knicks aren't quite as bad–in fact, they're better than a lot of people expected. But that doesn't mean they have talent to shed at the trade deadline, as Mitch Lawrence notes in a column about how Donnie Walsh won't go after Amare Stoudemire.
Ask yourself this: Who would the Suns want off the Knicks' roster?
David Lee? After all, he's on the verge of accomplishing this:
If the Knicks center is one of the seven players named as a reserve to the Eastern Conference All-Star team Thursday, he will become the first U.S.-born white player to be an All-Star since 2004.