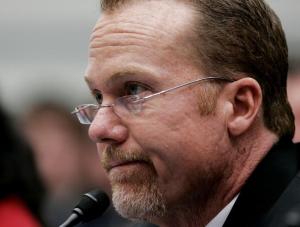 For the second day in a row, the Daily News eschews the Jets impending second round game for Mark McGwire. "McLIAR," the headline on the back cover reads, which seems more like a Post headline, doesn't it? Apparently, the Daily News doesn't believe McGwire's claim that he only took a small amount of performance enhancers.
Mike Lupica says, even after the admission that he took steroids, he's still no better than Barry Bonds. An informant says McGwire took them to bulk up, not heal. And Jose Canseco is still saying he injected McGwire himself. That really seems like all you need to know at this point.
The Post keeps it local, going with the Jets on the back cover again. This time it's Braylon Edwards, who the paper thinks should stop dropping passes. Yes, that might be nice for Jets fans, but it's not like the guy is doing anything differently than he's ever done, which is a big part of why the team got him for so cheap in that early season trade. Steve Serby has a story that's mostly supportive quotes.
Edwards has no problem making the spectacular catches. "I told him, 'Next time you're open like that, I want you to catch with one hand,' " Ryan cracked.
Both papers give you an obligatory Mark Sanchez year-in-review, with a lead that sums up the season.
From the 3-0 start to the hot dog-eating incident, and from the head-first dive for a first down to the color-coded wristband, Sanchez has seen it all.

And intermittent throughout all of these quirky events that chased Sanchez like a hungry pass rusher, there were the occasional cloud bursts of interceptions and fumbles — poor decisions with the football that were sabotaging the Jets and leading to senseless losses.
The Post calls it "most eventful season for a rookie quarterback in NFL history." The Daily News says the fact Sanchez yelled at Rex Ryan–"in the crucible of a playoff game"–could be a defining moment for him.
"I'm honored to be here, but at the same time, I don't want to look back and say, 'Man, that was cool, getting to the divisional round,'" he said. "We want to get to the AFC Championship (Game). We want to get to the Super Bowl."