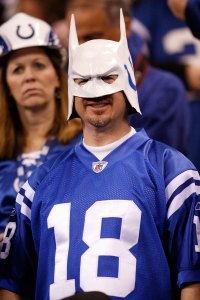 The Post's George Willis is in Indianapolis, as evidenced by the dateline on this morning's column about how much everyone there loves Peyton Manning.
"I hope there's no Tiger Woods kind of thing going on, but if Peyton ran for mayor or governor of Indiana, it would be a landslide," said Curt Ervin, the district athletic director for the Indianapolis Public Schools. "People just worship the ground he walks on."
Apparently, people even credit Manning for all the construction that's popping up downtown.
That construction must avoid a downtown canal–one of many things we learn from Filip Bondy's column about the "wee urban area" in the Daily News this morning. Indianapolis also has more letters than New York City, and more monuments than any city other than Washington, D.C. And there's a triple-A baseball team.
From a distance or even up close, you might confuse Indianapolis for any number of other generic American cities. This disguise is good for baffling unwanted, would-be intruders who might end up buying a house in Cincinnati while thinking it's Indianapolis.
The Jets are trying to disguise their defenses. Kerry Rhodes thinks they can rattle Manning.
"He's seen everything. But the way you disguise it is the key. Even when he is not pressured, make him feel simulated pressure. He hasn't seen every way we can do it. It will be fun. A cat and mouse game."
Mike Vaccaro rattles Jets fans with a What Might Have Been column about how Manning stuck around for his senior season the year Bill Parcells and the Jets had the number one pick. Who was orchestrating it?
[Phil] Simms had advised both sides in the weeks leading up to that day. He'd told Parcells that Manning was as good a college quarterback as he'd ever seen. He'd told the Mannings that there wasn't a coach alive who'd be a better mentor to Peyton, that even Simms' legendary quarrels with Parcells had only helped make him a better player than he otherwise would've been.
"I gave them both nothing but thumbs-ups," Simms said.
Simms will call the game this weekend.