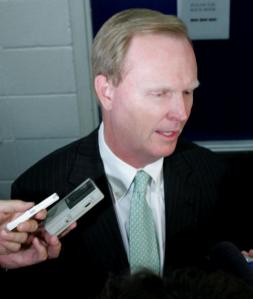 John Mara did not seem to enjoy watching the Jets close out Giants Stadium with a big win, while his own Giants got blown out for the second straight week.
Both your tabloids run him on the back cover with some variation of being angry. "[S]alt was rubbed in the Mara wounds knowing the Jets were celebrating a playoff berth in the stadium Wellington Mara built. It had to be worse than the Fumble or Flipper Anderson or Ray Handley," posits George Willis in the Post.
Mara said it felt more like a 2-14 season. So who's he unhappy with?
"I'm disappointed at everything. I'm unhappy at everybody. It's just not acceptable to perform like that," Mara said.
But he was particularly unhappy with Bill Sheridan, the coordinator for a Giants defense that got routinely torched all season. (He outlasted Jim Zorn by a few hours, for what that's worth.) In firing Sheridan, "the Giants finally executed a play properly," writes Filip Bondy. 
The Jets defense has its work cut out for it if it wants to make a playoff run. "There are no Curtis Painters on the schedule anymore," writes Steve Serby, who volunteers as the "town crier" this morning to tell you this:
Don't count them out.
Serby thinks Sanchez is the key, and so he fashions a new portmanteau. "They have a Chancez," he writes.
Gary Myers uses the same logic to arrive at the opposite conclusion. He likes the Jets this weekend, but he's not counting on Sanchez taking them any further.
After that? The Jets are not going into Indianapolis or San Diego (if the Ravens beat the Patriots) and beating either of those teams. Peyton Manning would want to finish off the Jets after the forfeit two weeks ago and the Chargers are just too good.
Where's that old saw about defense winning championships?