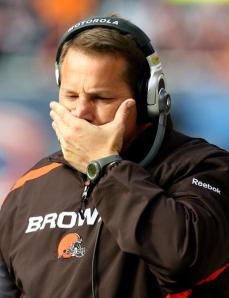 Your sports reporters rolled through their Rolodexes yesterday, making for a couple of beefy tabloids this morning.
Gary Myers gets a solid quote from Eric Mangini, who was apparently at Disney World with his kids. (If I were Bill Simmons, I'd make the "Eric Mangini, where are you going now that you've finished 5-11?" joke.)
Mangini said his brother-in-law, a high school football coach, came up with the Beatles comparison. "He said, I'm Pete Best and Rex is like Ringo," Mangini said laughing. "I thought it was a pretty good analogy."


Does Mangini wish he was still with the Beatles?

"I was there in the early days," he said. "I like the band I am with now. I like my band."
If the Jets are the Beatles, what band does that make the Browns?
Steve Serby talks to Marty Lyons, Wayne Chrebet and Keyshawn Johnson. Mark Hale gets Rex Ryan's bearded twin brother, Rob. "Listening to Rob talk sounds very much like listening to Rex — their voices are almost identical," Hale notices. Although it would seem Rex is much more quotable; Rob mostly sticks to talking about what a good coach his brother is.
Some people aren't even Jets-related. Ralph Vacchiano calls up Bill Cowher. Why not?
"This Jets team is like old-school football," Cowher told the Daily News yesterday. "Run the ball, play good defense, and make it ugly if you have to, but find a way to win in the end. And they have a swagger. Having a swagger based on talk is one thing, but they have a swagger based on performance. They've been able back up a lot of things they've talked about wanting to do."

Cowher pretty well squashed the notion he'd be the next coach of the Giants—a theory floated by his former player, Jerome Bettis.
"I haven't talked to Jerome Bettis in two years," Cowher said. "I'll leave it at that. I think that answers your question."
Cowher may not be looking ahead, but the Post sure is. The paper's theme for their Jets coverage is "60 Minutes to the Super Bowl," which seems like the kind of over-the-top confidence that must make Jets fans cringe. Steve Serby's column—one of about three this morning—won't help. He asks several players to envision what it will be like to play in the Super Bowl in a couple weeks.
But the Jets can't blame Serby if they end up jinxed. The Post reports:
Shirts, hats, key chains and pennants with the logo "Jets Conference Champions" are available at Jetsshop.com — along with Jets Super Bowl programs.