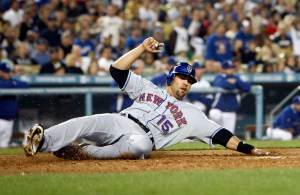 Surprise! Carlos Beltran had surgery on his knee yesterday—apparently against the Mets' wishes.
The team reportedly contacted the commissioner's office to express their displeasure and the Post says there's a possibility the Mets might file some kind of legal action. But the paper thinks he should be in the clear: "The Mets, according to one official, might have a greater case for a grievance if Beltran had gone to another country and/or to a less reputable doctor."
Your columnists are not encouraged by this news. "This is déjà fools. They again appear inept," writes Joel Sherman. John Harper thinks it's still 2009 for the Mets, and that the injury could haunt Beltran all year. But Harper says people around the league are wondering who's really in charge in the organization.
"Enablers," was the word the person used to describe the way the organization allowed players to handle injury situations. "This is another example," the person said last night. "I can't imagine this happening on too many other ballclubs."
In Philadelphia, the Knicks' David Lee sunk a game-winning layup with 14.3 seconds left last night. Lee was still mourning the death of his grandfather on Tuesday and thought maybe the shot—which bounced around the rim before dropping—got some help from above.
"After it bounced around about 19 times and goes in, you definitely give it a thought," said Lee, who chartered a plane to fly to St. Louis for his grandfather's funeral today and will return for the Garden game against Toronto tomorrow. "It's gratifying, knowing I probably didn't have my best energy because I was a little distracted. To help the team pull out a good road victory, it was awesome."
The Daily News has nine missions the Jets must accomplish to beat the Chargers this weekend. Win or lose, the Post says New York is almost a Jets town: "For the first time in 40 long years, the Big Apple looks like a Granny Smith, tinted a fine shade of green."