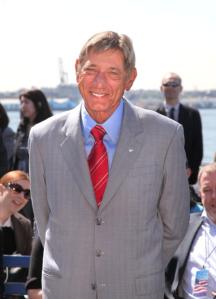 It's Old-Timers Day in the Daily News. Broadway Joe surfaces on the back cover, responding to Rex Ryan's claim that the Jets ought to be Super Bowl favorites with a charmingly dated comparison:
"I'd be surprised if he didn't quote Capt. Queeg in the 'Caine Mutiny' court marshal: 'Ah, I made a misstatement,'" Namath told the Daily News Thursday. "In no way, shape or form are they a favorite going into this tournament. First of all, as much as we love the guy…his quarterback, he's a rookie and he's going to see defenses he's never seen before."
And then he started to sound kind of curmudgeonly.
"You guys are seriously talking about that?" he asked, adding: "It comes down to an individual perception to what is feasible, what's reality and what's not. The reality is, they're sure as hell not the favorite. They shouldn't be the favorite. How can you be the favorite over that competition that's ahead?"
The paper also catches Buddy Ryan before the early bird dinner, and he's a little more supportive of his son.
"I think he's got a chance to shut them out," Buddy said by phone yesterday. "He shut the first bunch out last week. He can get the rest of them like I did in '85. We shut out the Giants, the Rams and would have shut out the Patriots in the Super Bowl if we didn't fumble."
Nothing quite like re-living the glory days. Maybe Rex can take a page out of dad's book and put a bounty out on Carson Palmer.
The Post goes into the Wayback Machine too. Mike Vaccaro calls up Darrelle Revis's high school coach in Aliquippa, Pennsylvania, where the Revis family are apparently local legends and where "every Pop Warner kid is growing up wanting to be the next Darrelle Revis."
The young folks just aren't as kind. The Post has the Bengals' reaction to Ryan's boast, and it's a little more spirited.
"I don't give a rat's [behind] what he says," safety Chris Crocker said.