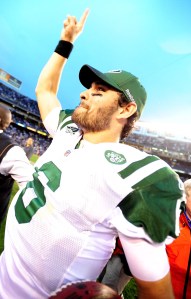 It's Thursday, so you know it's a Mark Sanchez morning in your local papers. He appeared for his Wednesday chat with the media sporting a four-week beard.
Mike Vaccaro has decided the beard is covering the Face of the franchise, and in a somewhat creepy column, takes to just calling him The Face.
The Face of the franchise, the Face of the future, is screaming at you from the cover of Sports Illustrated, a football in his left hand, a clenched fist in his right, yowling from behind a green-and-white mouth guard, through a green facemask, a shriek the Jets have been waiting four decades to hear. Maybe you worry about some crazy cover jinx. The Face doesn't worry about such things.
No, the Face does not, as Mike Lupica explains to us. Apparently, the Face walks around the locker room with the greatest of ease.
The kid who tries to be the new Namath, or maybe tries to be a winner as a rookie the way Derek Jeter was with the Yankees, goes through the Jets locker room in the middle of the afternoon the way he has gone through the season, even the bad times: Like he belongs.
I don't know how the Wednesday reporting routine works over there, but Lupica makes a point of saying that at least one of his quotes was from "before he was in the interview room Wednesday." Is the trying to tell us this is a part-exclusive?
Alan Faneca and Damien Woody are trying to tell their teammates how nice it is to have a Super Bowl ring.
"It's a once-in-a-lifetime thing," Faneca, who's trying to make it a twice-in-a-lifetime, told The Post yesterday.

[…]

"It's the best experience that you can ever have, being at the pinnacle of your profession. . . . There's nothing like it," Woody said. "I haven't experienced anything like it. Next to having kids, there's nothing like it."
Kicker Jay Feely–who was once the subject of a Saturday Night Live skit spoofing his three misses in a playoff game in 2005–tells Gary Myers there's nothing quite like getting made fun of.
"I went through the worst moment I could go through, got lampooned on Saturday Night Live, and it didn't break me," he said. "When you go through something like that and it doesn't break you, then it ends up making you stronger and making you better."