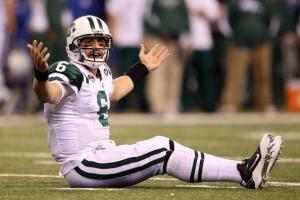 Bad news for the Jets? Mark Sanchez looks like he's going under the knife for arthroscopic surgery on what we thought was his good knee.
The Daily News says he's "becoming more like Joe Namath every day," and says the procedure isn't yet for certain because it's "elective."
"Nothing has been finalized," [Mike] Tannenbaum said at a news conference to wrap up the just-completed season. "They're Mark's knees, not mine. He has to make that final decision, but we've had a lot of conversations and we're on the same side of the table."
George Willis is on that side of the table too.
It's not my knee, but my guess is he'll have the surgery — or at least that he should.