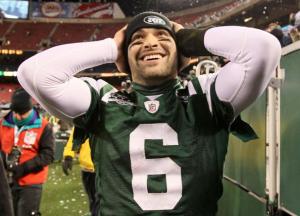 One day after extolling rookie quarterback Mark Sanchez and declaring the Jets have a "Chancez" to win the Super Bowl, Steve Serby comes back to earth a little bit.
This is the $50 Million Question for the Jets now: When — not if — the Bengals dare Mark Sanchez to beat them Saturday, can he beat them? Can he be The Cincinnati Kid?
His teammates certainly hope so. "This ain't the time to play like a rookie right now," Damien Woody said. "We need him to play like a veteran."
Sanchez's quotes this morning aren't particularly encouraging in that regard. He told reporters about walking into Rex Ryan's office after throwing three interceptions against the Falcons, in a game the Jets thought they needed to make the playoffs.
According to Sanchez, he walked into Rex Ryan's office and said, "God dang it, Rex, what was I doing? Why did I throw that ball? I hate this feeling. I hate coming in here. I've got to do a press conference, I hate talking and, God, I know I'm going to say it's my fault, and I hate saying that."
And there's this:
"There'll be a point," Sanchez said, "maybe before the game or something, midway through the game, halftime, where you're just like, 'Man, this is unbelievable!' I remember feeling that way at the Rose Bowl and the B-2 bomber flies over and you're just like, 'Man,' you kinda step outside of yourself and look back like, 'Wow. This is pretty cool. Look what I get to do.'"
It's certainly fair, but you have to wonder if Carson Palmer–who Sanchez idolized in his waterboy, "Wonder Years" days–will be as wide-eyed on the other side of the field. Palmer went 1-for-11 last week, but Chad Ochocinco says the Bengals weren't really trying.
"Extremely vanilla," is how he described their offensive game plan. "Similar to a preseason game." And Ochocinco put to bed any notions about the knee he hurt before the game last week. "I had sex yesterday," the Bengals receiver said. "With some of the moves I did — I should be fine." (The Post likes this quote so much they put it on the back cover.)
Ochocinco even offered to fly Fireman Ed to Cincinnati for the game, but Ed declined saying he'd rather stay in New York.
Over in Queens, the Mets' big free-agent signing, Jason Bay, insisted he's happy to be in New York too, despite a whole slew of reports that the Mets were a last resort.
"Ultimately, I'm here and I'm telling you I want to be here. I understand it, but I am here and I'm telling you that wasn't the case," Bay said. "First of all, I am here, and I wouldn't be here if I didn't want to be or if I wasn't happy. That couldn't be further from the truth."
"Ultimately, I'm here," doesn't seem like the best way to start that response. I'll believe it when he dons one of these.