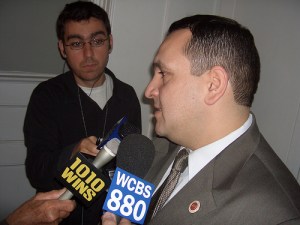 State senators release the Monserrate report, and stream the press conference live, today at 250 Broadway at 11 a.m.
The lieutenant governor of Maryland has a fund-raiser on Fifth Avenue, at noon.
Tish James shows a movie about civil rights, in the Apollo Theater at 5:15 p.m.
Christine Quinn and City Council members celebrate Martin Luther King Day in City Hall at 5:30 p.m.
State Supreme Court Judge Lucy Billings is inducted, at 60 Centre Street, at 6 p.m.
Eric Schneiderman raises money at The Heights, at 6:30 p.m.
And Curtis Sliwa talks to Republicans at the Airmen's Club, at 7:30 p.m.