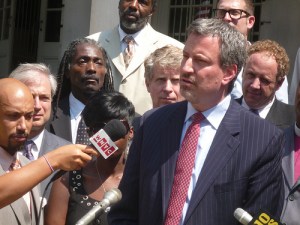 9 a.m. The Joint Assembly and Senate continue their hearings on the state budget resume, in Albany. It's also streaming live here.
10 a.m. Bloomberg announces record-low traffic fatalities, in Brooklyn.
10 a.m. Paterson discusses clean energy, in Syracuse.
10 a.m. The City Council's Land Use Committee meets in City Hall.
11 a.m. De Blasio discusses corporate campaign spending and pension funds at 1 Centre Street.
11 a.m. Cuomo hosts a conference call about online retailers deceiving customers.
11:30 a.m. Bloomberg raises American flag flown in Haiti by NY rescue workers.
1 p.m. The City Council's Education Committee has an organizational meeting, at 250 Broadway.
1:30 p.m. Paterson speaks at a ferry opening at Lake Champlain.