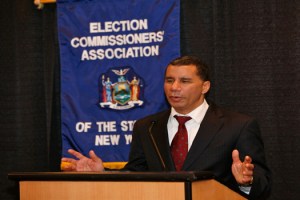 10 a.m. The City Council's Public Safety Committee has a hearing about gang activity at City Hall.
11 a.m. David Paterson appears on ABC's "The View."
11 a.m. Malcolm Smith attends the Bangladesh Power and Energy Investment Road Show, at the Marriott Marquis.
Noon. Bloomberg presents his budget for Fiscal Year 2011, at City Hall. It'll stream live here.
4 p.m. Judge Lynn Kotler is inducted, at 111 Centre Street.
5:30 p.m. Senator Robert Menendez has a fund-raiser for the D.S.C.C. on West 42nd Street.
6 p.m. David Polak hosts a fund-raiser for Haiti.
6:30 p.m. Charlie Rangel raises money on West 143rd Street.
7 p.m. Paterson delivers remarks at Haiti fund-raiser.
7 p.m. New York Democratic Lawyers Council has a steering-committee meeting.
7 p.m. AIPAC hosts a discussion entitled "Israel's Quest for Peace."