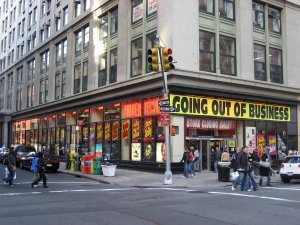 On Friday, Jan. 15, the old Tower Records building on Broadway and Fourth Street was the site of a big, funny party celebrating the opening of a music-themed art show organized by No Longer Empty, a group of curators who mount exhibitions of contemporary art in vacant storefronts around the city.
The centerpiece of the show, on view at 692 Broadway till Feb. 13, is an installation repurposing the space as a cartoonish simulation of a bustling, pre-Internet music store called "Never Records." Taken together, the sprawling, mixed-media exhibition is meant to function as a monument to the glory days of music retail, complete with racks of vinyl for browsing, band posters on the walls and a stage for in-store appearances.
The line to get into the opening on Friday snaked around the block, even after the organizers ran out of the low-calorie, electrolyte-enhanced vodka drink they were promoting on behalf of their liquor sponsor.
Inside, a guy was going around giving out flyers to a fictional concert at CBGB, and NLE curator Manon Slome's husband, Ian, a South African-born financier, talked about how much better everything used to be before the Internet came along and spoiled it all. Although Mr. Slome admitted that he never did much shopping at record stores, he had a lot to say about how great they were.
"At least for me, it's a mourning of the fact that technology has taken away the record store as a place where people gather to socialize, to mix, to share their passion," he said. "The Internet is nice, but you can only share the passion virtually, not with a face-to-face emotional connection. My personal feeling is, I connect with people much more intimately, on a deeper level, when we're both looking at each other eye to eye."
Such sentiment was flowing freely as attendees lamented a time before computers, when everyone hung out at record stores with their friends, and New Yorkers knew how to really have fun. Indeed, though conceived by its organizers as a testament to the vibrancy of the underground art scene in recession-era New York, "Never Can Say Goodbye" seemed instead to be inspiring a nostalgia for the city's past that was overpowering any other message the show's curators might have had in mind.
Arturo Vega, who served for 20 years as official sidekick and creative director to the Ramones, held forth about what the kids today, with their downloading and their iPods, are missing.
"They're missing a lot," Mr. Vega said. "But then, you know, it's like, life changes. I don't like it, but I'm not going to complain about it. Personally I like the proximity—I like having a record in my hands. I love looking at the artwork. Downloading something is so impersonal. You don't touch it, you know? I guess that's old-fashioned. But millions of people are going to be old-fashioned that way– they're going to miss touching it."
As for the real youngsters, who came along post-touching: "They're probably going to turn into seaweed or something," Mr. Vega said. "Given enough time, God knows where evolution is going to lead for them."
Later in the evening, Mr. Vega would raise a glass and toast the evening's organizers, saying that he hadn't seen an event like "Never Can Say Goodbye" since the 1980s, "in the days of Jean-Michel." (Basquiat.)
What was up with all this retrograde sentimentality, the Transom wondered? Wasn't it kind of counter to the whole spirit of contemporary art?
As luck would have it, the artist-critic Svetlana Boym, author of the book The Future of Nostalgia, was in the house to explain. It was Ms. Boym's view that for the people gathered that evening at Tower, the "record store" was serving as a stand-in for some broader cultural paradigm.
"I think it's not a nostalgia for record stores but a nostalgia for a kind of New York culture, perhaps from the '70s, that was less commercial, when everybody got together to hang out," Ms. Boym said. "Probably drinks were stronger."
Artist and punk musician Ted Riederer, meanwhile, who composed the Never Records installation, said he was sick of hearing everyone saying that New York used to be better.
"I just think it's so fucked up," he said. "I always have talks with the older artists who lived in the downtown area, who always lament about how New York will never be the same—and yet, out in Bushwick, or for a very brief time here, it is happening. It's still a cool place. I love Arturo, but I've got news for anybody who says they miss the old New York. If they want to find the crazy artists and bohemian life, they just have to leave Manhattan."
Those who want to stay should know that the Tower Records space, owned by the Vornado Realty Trust, is available for lease from retail brokerage Robert K. Futterman and Associates. The area is safe, conveniently located near the N-R-W train, and in spitting distance from a real, live record store—as opposed to a reenactment of one– called Other Music.
Ms. Slome actually went over there the other day, she said, to give the employees some flyers and tell them what she and her team were up to.
"I popped in there, but I didn't get much reaction," she said. "I gave them a flyer and told them this was happening and they were like, 'O.K., great.'"