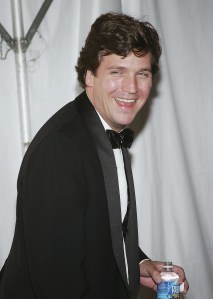 Next week, the ever-boyish, bow-tied, former Crossfire-r Tucker Carlson launches a shot across the bow of conservative media with a new web site aimed at right-leaning readers.
When he first announced the idea early last summer, Mr. Carlson said his new site–called The Daily Caller–would be "along the lines of The Huffington Post." Almost exactly parallel lines, as it turns out. The Washington Independent notes:
According to Carlson, there will be at least one editor monitoring and posting stories "24 hours a day, around the clock, in the office." The top story of the moment will run at the top of the page, with more content running beside it. Stories written by the magazine's reporting team, which includes Washington Times veteran Jon Ward and Government Executive's Gautham Nagesh, will be cycled in, marked as "DC Exclusives," much the way that stories by Huffington Post reporters trade space with headlines that link to stories from other publications. A staff blog – possible names include "Caller ID" and "The Daily Trawler" – will indulge in more humor, some of it written by long-time conservative blogger Jim Treacher (real name Sean Medlock) who moved to Washington from Indianapolis after Carlson gave him a call. And an iPhone app is on the way.
But if Arianna is an inspiration, Nick Denton decidedly is not.
"I keep reading all of these Nick Denton memos for Gawker," said Carlson, "these ferocious memos to writers where it's like 'get a million pageviews this week or you're fired!' Maybe we'll have to do that! But it's not my personality at all."