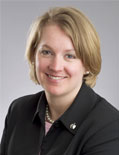 Real estate giant Tishman Speyer is hiring fresh help for its public image.
The firm announced Wednesday that Michelle Adams, the well-connected executive director of the Association for a Better New York and an aide to ABNY chairman and landlord Bill Rudin, would be its new managing director for public affairs.
The hire comes as the firm and its young co-CEO, Rob Speyer, are in the public hot seat for a series of high-profile acquisitions gone bad, most notably its $5.4 billion purchase of Stuyvesant Town/Peter Cooper Village, which headed into default earlier this month. On Sunday, The Times ran a piece on the wounds the failing deals might leave on the firm's image, and this week's Crain's carries a lead story titled "Tishman Speyer Under-Fire."
Ms. Adams is plugged into the political, real estate and business worlds.
"The first thing about Michelle is that she has one of the best rolodexes in the city," said Mitchell Moss, professor of urban policy at NYU. "She's extremely smart about the city, and about where influence lies in the city."
For her part, she said she was "really excited, and looking forward to this wonderful opportunity."
By the sound of her title, it seems Tishman Speyer is following a path that many of the city's largest landlords have taken in the past few years: hire a well-connected individual to handle public and government affairs, and therefore help navigate the often tangled web of government, politics and public opinion. (Other real estate firms typically rely principally on outside lobbyists and PR firms to handle this.) Most have been city officials: Extell hired former Deputy Mayor Marc Shaw; Durst hired mayoral spokesman Jordan Barowitz; Vornado brought on Economic Development Corp. VP Kate Ascher; Brookfield hired EDC VP Josh Sirefman; Muss Development hired Deputy Mayor Dan Doctoroff's chief of staff, Jim Whelan; Tishman construction hired John Gallagher, a mayoral spokesman; and Related hired Jay Kriegel, who was close to Mr. Doctoroff and helped lead the city's 2012 Olympic bid, along with Joanna Rose, a Pataki administration spokeswoman. 
"Her work has helped to continue and enhance ABNY as a positive force for New York City, and we are excited to welcome her to Tishman Speyer," Mr. Speyer said of Ms. Adams in a statement.
ebrown@observer.com