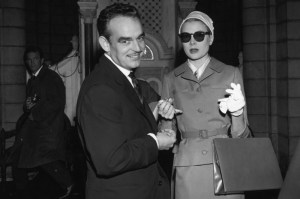 It was the boozy hour of 1:30 a.m. during a recent party in Carroll Gardens, and the 30-something hostess was telling a flock of women a story about a friend who moved to Berlin last year, after a series of tragic breakups, and met a man who almost immediately wanted to marry her. There were "oohs" and "aahs" all around. The women had to contain themselves from outright applause.
The hostess looked over at her live-in boyfriend of several years, who was sitting across the room with the other boyfriends. "I guess nowadays you have to go to Europe to find a husband," she said, looking at the fair, upturned faces around her.
The collective sigh that evening was in reference to the stubborn, New York man-child with his perpetual fear of marriage and confused ("I love you, now go away") approach to relationships. It is now an entrenched cultural truth: A desirable woman in her 30s could meet someone, date for a while, enter a relationship, spend Thanksgiving at her boyfriend's parents' house, rent an apartment together, adopt a pet, wash his skivvies for years and still: Long-term commitment is not guaranteed.
"I think in New York you could get to a certain stage with someone and then they turn things around on you, like you imagined this whole thing when you know you didn't imagine it, and they just freak out and disappear," said Lisa Locascio, 25, who moved from New York to the West Coast in August to pursue a Ph.D. in creative writing at the University of Southern California.
Ms. Locascio is one of many women becoming aware of an alternative: a man to be found across seas and oceans (or in Ph.D. programs around our city) who's not just tolerant of but actively seeking domestic bliss. She met a Danish man, a visiting scholar, at a September barbecue, and they got engaged over the holidays.
Ms. Locascio described her New York dating experience, with commitment-fearful men between the ages of 25 and 37, as "horrific." But in her current relationship: "I just didn't feel like the idea of marriage or commitment was taboo," she said contentedly. "I always felt like you could never raise those questions, but my boyfriend now is just so certain about our relationship, and he doesn't get scared when you bring this stuff up."
'SO COMMUNICATIVE!'
Jane Yager, 31, a writer, moved to Berlin four years ago and met a British man with whom she now cohabits and has a 16-month-old son (though they are not married; in Europe, American gals' preoccupation with "getting the ring" is viewed in many quarters as hopelessly bourgeois). "In the U.S., there are all these fairly ritualized things both men and women are supposed to do in the early stages of dating to show the other person you're not desperate or psycho, like waiting a certain amount of time after you get someone's number before you text or call them," Ms. Yager said. "[Here] if you were interested in having a relationship, you could show it much more directly and immediately. … We were not even living together at the time he suggested we have a baby." Yes, dear reader, he suggested it.
New York's socialites have been leading the way in the trend of handpicking one's beau overseas: Vogue editor Lauren Santo Domingo (nee Davis) married the Colombian billionaire Andres Santo Domingo two years ago after meeting him in Paris in 2001; Tinsley Mortimer has reportedly dated London-residing Prince Casimir Sayn-Wittgenstein-Sayn ("Cassie") after leaving Topper; and it was recently announced that Norah Lawlor, the 43-year-old publicist and longtime singleton, had wed a 39-year-old Brit. "I love the traditional values and worldliness of Brits," Ms. Lawlor chirped in an email message.
Think of it as the reverse of the Russian mail-order bride: importing an agreeable, commitment-submissive Euro-husband, or finding him in his natural habitat.
About two years ago, a 27-year-old woman we'll call Sarah was passing through Berlin on her way to Prague and met a German man at a local kiosk. After several transatlantic visits, Sarah moved from her place in Carroll Gardens to Berlin to be with him, and they were married a few weeks ago (she asked that her name be withheld for family reasons).
"He was so direct and serious from the beginning. 'I have these feeling about you, I have these concerns about where this could go, I feel such-and-such way, what do you feel?'" said Sarah. "It was so communicative!"
In the German language, according to Sarah, there isn't even a term for what us New York gals call "dating." "Either you have a boyfriend or you don't. Or people are sleeping with each other, and we have a term for that also, but no word for dating—that ambiguous word about a romantic connection, when you're not just sleeping with someone, and yet there is no commitment there."