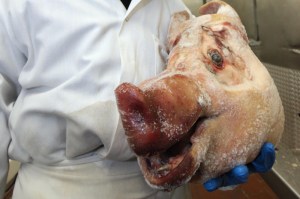 Last Halloween, Scott Gold, author of The Shameless Carnivore: A Manifesto for Meat Lovers, offered to serve as guest chef at an underground dinner party hosted by his friend Kara Masi at her apartment in Fort Greene. Tasked with cooking for 12 devoted gourmands, Mr. Gold, an accomplished if not professional cook, swung for the fences, dreaming up a truly frightening dish called "Zombie's Delight": pan-fried calves' brains. He bought the raw organs—four half-brains—at Ottomanelli & Sons on Bleecker, and then, in Ms. Masi's kitchen, proceeded to "blanch 'em in cold water, then poach 'em, then take off all the little blood clots and membranes, and then dredge it in flour and pan-fry it in a nice peanut oil until it's golden brown, then let it drain" (all while dressed as a pirate). Brains "are easily just the grossest raw ingredient you'll work with," Mr. Gold told The Observer with evident glee. But they had a "soft, creamy consistency," almost like a flan, and "a musty, visceral flavor." At least 10 out of the 12 attendees tried them, and while none asked for the recipe, Mr. Gold considered the dish a success. "Most people were just like, 'Oh wow, this didn't make me vomit, hooray!'"
It's a sentiment increasingly familiar to New York diners. In the past few years, offal—the animal parts that fall off the butcher table, like the entrails, head and feet—has progressed from a rare delicacy at risk-taking restaurants like Babbo, Prune and Michael White's now-defunct Fiamma to a ubiquity of near–pork-belly proportions. Prime beef? Hopelessly minor league, not to mention kind of unenlightened. Call yourself a chef? Let's see what you can do with a whole (locally raised, hormone-free, of course) carcass. Let's see you braise a kidney.
Meanwhile, butcher shops like the Meat Hook in Williamsburg and Dickson's Farmstand Meats in Chelsea Market sell ambitious amateurs everything from headcheese to chorizo-stuffed duck hearts. A blog called Nose to Tail at Home chronicles the Julie Powell–like adventures of a young foodie named Ryan Adams (not the singer) attempting to cook from the British chef Fergus Henderson's seminal 2004 offal bible, The Whole Beast: Nose to Tail Eating. And last summer's inevitable nationally televised offal street-food competition occurred not on Fear Factor but Top Chef Masters, with Chicago's Rick Bayless' tongue tacos triumphing.
"It shows a level of skill and also a care and concern," said Seamus Mullen, chef at Boqueria in Soho and on 19th Street, who regularly serves pan-roasted sweetbreads, pork liver terrines, lamb kidneys and rabbit organs. Mr. Mullen said that the dishes, while not yet blockbusters, sell well, especially when he puts them in small, cheaper appetizer portions—less of a commitment. There is an obvious spirit of daring to the entrail enterprise. "When we first opened L'Artusi and even Dell'anima, all I wanted on the menu was funky, weird shit," said Gabe Thompson, chef at the two West Village Italian restaurants, where he cooks sweetbreads and livers and has considered adding brains. "Cooks like to eat funky, weird shit, and cooks like to send other cooks out funky, weird shit."
High on the Hog
Cesare Casella is currently serving plenty of guanciale and Sloppy Guisseppe (a sloppy Joe made of leftover parts like oxtail and bone marrow) at Salumeria Rosi Parmacotto on the Upper West Side. He served a veal brains special at the now-shuttered Maremma, along with Granelli—"otherwise known as Rocky Mountain Oysters or cow's balls," Mr. Casella said, but "brains were so much harder to sell than testicles. … For some reason, diners were more comfortable with the idea of eating balls."
Mr. Batali, the primary auteur of fine dining's current offalmania, has had better luck with his lamb's brain "francobolli," a staple since he put it on Babbo's opening menu in 1998. "I used it because it was an inexpensive way to profit," he told The Observer, "but also because it served to distinguish my restaurants from the rest of the Italian restaurants that pretty much had veal Milanese and ricotta ravioli with tomato sauce." He also cites "philosophical responsibility."
For all the balls-out (sorry) nature of offal, chefs offering it still tend to traffic in euphemism. A handy glossary: guanciale (pork jowl), trotters (pig's feet), cod milt (cod sperm, once offered at the now-shuttered John Dory on 10th Avenue), tripe (stomach, though it sounds more like a mild white fish, which perhaps helps account for its popularity), Orielles de Christ (pig skin, available at the Vanderbilt in Brooklyn) and, of course, so-called sweetbreads (thymus and pancreas, available everywhere from Babbo to Prune to Little Italy). Some offal is more straightforward in name, such as fatback (literally, back fat) and caul fat (a fatty membrane surrounding pig intestines). And organs like the liver, kidney and brains have largely evaded semantic cover, though they also sometimes escape mention in terrines around town, where they add depth of flavor if not commercial appeal.
At the new Breslin at the Ace Hotel, April Bloomfield, a Brit and offal's reigning high priestess, has dispensed with the niceties and is serving "Stuffed Pig's Foot (for 2)," which Times critic Sam Sifton described as "the size of a toddler's leg." And possibly piggybacking (sorry again) on the favor for British cooking cultivated by Ms. Bloomfield, a new Scottish gastropub in the West Village called the Highlands has begun tempting/repulsing customers with haggis, the traditional Scottish delicacy involving boiling intestines in a sheep's stomach. Mr. Thompson said the civilian clientele for offal consists of two distinct groups: "All these people who are 20 being like, 'I eat everything!'; and people who are 60 saying, 'I haven't eaten sweetbreads since I was a little kid!'" At the Spotted Pig, where crispy pig's ear is the sixth best-selling dish, owner Ken Friedman recently observed, "These people come in, mostly older English people, and they eat [chef Bloomfield's] liver and onions and bacon, and they like have tears in their eyes."