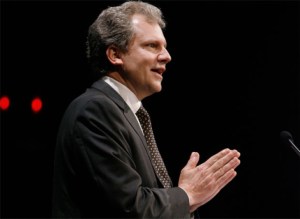 Why does The Times need 12 months before it introduces a metered system for charging readers for content? Or rather, why announce it so far ahead?
Speculation that an announcement was meant to be timed to the release of the Apple Tablet, rumored to be the topic of a big Cupertino "event" slated for Jan. 27, have been dismissed (often in the same venues in which it was initially raised.)
The paper may simply have had to take control of a narrative that was getting speculative and damaging—and had to create a conversation about it in which the company itself was the authority. (Today, senior executives of the company held a "Times Talk" conversation with online readers on the topic, and the newspaper's own media blog, Media Decoder, blogged about and then tweeted out the link.)
Sources tell us that Times executives are convinced they need a year to build the architecture for the new pay system, and also that they aren't depending on it, at least in the short term, to provide any windfall.
"If it's done right, this is not designed to create an instant bonanza of money," said one insider at The Times. "The company has its cash flow straightened out, the economy is improving, and this will be a supplement."
Publisher Arthur Sulzberger Jr. and CEO Janet Robinson still believe that digital advertising will represent the lion's share of the company's revenue stream in digital, insiders tell The Observer, and the meter system is a way to tack on some extra money while softening the blow to ad revenue that a hard paywall might deliver.
"It's imperative to build another leg under the stool, but it's not going to gush money immediately," said our source.
Over time, they hope that the revenues from paid users of the site will grow.
In September, executive editor Bill Keller told us there was "no clear evidence that a pay model will save newspapers from the flight of advertisers."
"It might, but that's a matter of faith," he wrote in an email to The Observer back then. "Nothing in previous experience (including the experience of the Journal and FT) and nothing in the reams of spread sheets proves that it will."
The Financial Times and The Wall Street Journal provide two of the models The Times considered: The former meters and charges for site usage past a certain amount of free browsing, and the latter puts most of its content behind a paywall only subscribers can get past.
But has so little become clearer to The Times in the intervening quarter? Insiders tell us that the company will need at least six months of development work (to actually build the software that makes the system function) and even more time to tweak it and play with it before rolling it out.
"There's a lot of technology at work here," a source with knowledge of the development requirements told The Observer. "Nobody does it well. The Journal has been working on a system for over a year, and still hasn't rolled it out. Steve Brill is still vaporware. The FT is tiny compared to what we would want to do, and it's not a good user experience."
"TimesSelect is primitive compared to this," said a Times editor. "It's ambitious. If you're a programmer, so many things have to be accounted for. When you click through 16 slides on a slideshow, we don't want that to count against your monthly total. We'd want that to be one click. And what do we do about Google? If you click to The Times from Google, how many free clicks coming in from Google should you have?"
And naturally, there are still political hurdles inside the company, and a feeling that the leadership is unsure of itself on the issue.
"It's so Times-like, right?" said another editor. "We're going to take this bold step, but we're taking a year to do it?"
Back in May, when Bill Keller talked about the meter model with the staff, The Times' market cap was hovering under $1 billion and its stock number was roughly the price of a Sunday edition. In those slightly more desperate times, Mr. Keller characterized a meter system as something that could roll out in a few months. Now that the company's market cap is back to $1.89 billion and its stock number over 13 dollars, perhaps taking the time to do it right looks more attractive.
"The company thinks it has time to get it right," said a source.