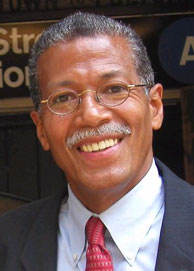 Robert Jackson, a councilman from Harlem who said he was steadfastly supporting Governor David Paterson yesterday, said he's coming to terms with the fact that Paterson won't be running.
"If that's the governor's decision, I'll support it," said Jackson in a brief telephone interview. He said Paterson is in the driver's seat. "I guess he decided to stop the car," Jackson said.
The councilman said it appeared Paterson "hit the hard wall of reality" in the last 24 hours, as his support crumbled and calls for him to withdraw from the race piled up.
"This was not only from elected officials or Democrats, but these were also black elected officials, which basically was his base," said Jackson.
"Unless you have the forces—like a Bloomberg—to hire as many people as you want and pay them whatever you want—if you don't have that, then you depend on a party, and party officials and the other Democratic clubs to carry you through the race. And if that's not there, then you're out of the race."
Then, Jackson added the obvious: "It clearly appears that Andrew [Cuomo] has the nomination locked in."