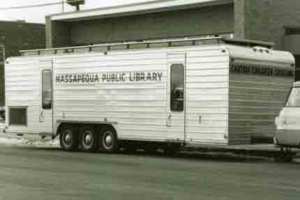 A few weeks ago, the Massapequa Library Bookmobile, which was taken off the road last summer after 48 years of service, was towed away to Alec Baldwin's Amagansett property. Mr. Baldwin, who grew up in Massapequa and whose father taught at the local high school, paid $1,000 for the forsaken vehicle, the library's director, Patricia Page, told the Transom.
"We were thinking of scrapping it and then he called us himself," Ms. Page said. "I don't know how he heard about it, but he used it when he was younger and he seems to have a feel for this community."
Since that initial phone call, which came shortly after the bookmobile was retired in July, the library has mostly been dealing with the actor's assistant, she said.
The beloved bookmobile, originally purchased for $13,000, began its route in 1961, when mothers stayed home with children and didn't have access to cars to get to the local library. It carried a small sampling of the library's offerings: children's books, biographies, romance books, science fiction books, mystery books, thrillers, religious and political books, classics, poetry and magazines. Each day it stopped in a different neighborhood so that everyone knew when it was coming. "There really was a necessity for it, and it was very well used for many years," said Ms. Page. "But then people's lives changed and mothers went out to work and the circulation dwindled."
Replacing the bookmobile would have cost a minimum of $200,000, she said. "It was in very bad shape and physically it had a lot of things that couldn't be repaired anymore-the framework was rusted and rotting and it wasn't economically sensible to rebuild it because it just didn't get used that much," said Ms. Page.
Mr. Baldwin, who declined to comment through his spokesperson, was the only one to make a bid; in meetings, Ms. Page said, he mentioned that he might use it as a playhouse for children, or maybe just an office. "I don't know what anyone would do with it or where they would put it," she marveled. "It's quite a big piece of equipment."