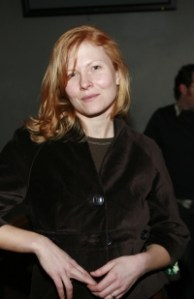 Before Nick Denton tapped Ana Marie Cox to be the founding editor of Wonkette, she was editing restaurant reviews in Florida and writing on a personal blog. But that doesn't mean she misses her time hammering out pithy posts under the Gawker umbrella, as she told the Onion's AV Club.
AVC: Are you nostalgic for your Wonkette days?

AMC: I was paid $12 a post.

AVC: That's a no?

AMC: No. I know my life has been really rich and my professional career has been really interesting since then. I've done a lot of cool stuff.
Followed by the inevitable question: What has that frenetic, low-paying model wrought on mainsteam journalism?
There's an addiction to speed over accuracy, and confusing wit with sarcasm. And the kind of mindless chasing of whatever the current popular thing is. Nick Denton tells his bloggers that whatever is trending on Blogger or Twitter, write a post on it, because they're already popular. Places like Politico do that with politics. They're writing what's already true and already believed. The good stuff is that there's more openness to voice. That's what places say they want, but usually what they really want is a younger and more attractive version of what they already have.
Which must be why Ms. Cox was sanguine about her own career prospects even though the interview–out today–seems to have happened while she was still unemployed. But GQ–presumably looking for that younger, more attractive voice–snatched up Ms. Cox last week to be its Washington correspondent.
Ms. Cox's last gig, at left-leaning Air America Radio, failed in part because it couldn't make talk radio seem young nor attractive. The most damaging stereotype? "That we're humorless fucking retards," Ms. Cox said.