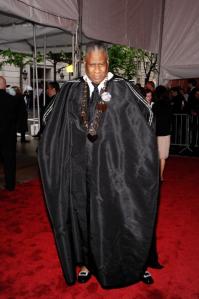 Vogue editor-at-large Andre Leon Talley joins America's Next Top Model as a judge this season, and today, Women's Wear Daily reports on how he is adjusting to the world of reality television.
This world demands a new vocabulary, for example:
Clothes aside, Talley took his responsibilities — to evaluate contestants and make good TV — "very seriously," he said. He devised a catchphrase of sorts — "dreckitude," a melding of dreck, one of his "favorite" words, and "quackitude," a term he'd heard on Rachel Maddow use on her show. "'Dreckitude' was whipped out when I thought the challenge was not met or if [the contestants] showed up in perhaps an outfit that I just couldn't wrap my mind around," he explained.
But Talley will maintain the level of luxury and style to which he is accustomed. His wardrobe for the show consists of "13 custom-made Chado Ralph Rucci cloaks, varying only in color or fabric" and "based on 17th-century Edo samurai tunic-coats."
Naturally, WWD wants to know whether this season's winner could appear in Vogue. Talley replied, "I say yes — in my opinion, she has the potential. But that's not my decision, that's Ms. Wintour's."
Contacted for comment on the ANTM escapade, Anna Wintour said this through a spokesman:
"André is always onto new things on television, and I think his latest adventure sounds like a lot of fun and I look forward to watching him on the program."