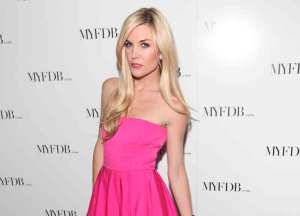 The most loathsome characters-and, therefore, inevitable stars-of High Society, Tinsley Mortimer's forthcoming reality show, will not include the socialite herself, but two peripheral characters, a network source recently told the Transom.
"We realized early on there was a story being told with Tinsley leaving her husband, filing for divorce and dating this German prince," said a staffer from the show, which premieres on the CW Saturday, March 10. "But after we shot a presentation with her, we realized we wanted to supplement her with interesting personalities because she alone was …" Not that interesting? we asked.
"Exactly!"
Enter socialites Paul Johnson-Calderon and Jules Kirby (close friend to Ms. Mortimer's sister, Dabney Mercer; former girlfriend of Nevan Donahue, Olivia Palermo's cousin; and daughter of lawyer Roger Kirby and former model Irene Kirby. Both have had some legal troubles: Ms. Kirby was charged with petit larceny after allegedly trying to steal an American flag in Southampton last summer, and Mr. Johnson-Calderon was infamously accused of stealing a purse from the Eldridge. (He wasn't charged.) "The stuff that comes out of Jules' mouth is really unfiltered," our source said. "She says she likes to use the N-word and thinks it should be O.K. and that she doesn't really hang out with black people, Jews or homosexuals."
Meanwhile, Mr. Johnson-Calderon's alleged vandalizing of the apartment of a woman named Cleo Vauban in Union Square will also appear in an episode. Ms. Mortimer's troubles are comparatively ordinary. "She dates the prince and then she meets Constantine [Maroulis, former American Idol contestant], and that's still going," said our CW source. "So the prince was eighty-sixed, but he was crazy-he checked her voice mail and kept her from having a relationship with her mom. Meanwhile, the mom really wants her to get back together with Topper. Tinsley is likable but you don't get any outrageous behavior from her. The others are abhorrent."
Mr. Johnson-Calderon would not comment on any of these incidents, but wrote to the Transom: "I had a wonderful time filming the show, and I look forward to seeing it succeed in a genre known mostly for produced contestant shows and lackluster 'glimpses' into the lives of randos."
Kristen Vadas, the senior vice president of alternative programming at the CW, said the network had planned for an ensemble cast from the beginning.