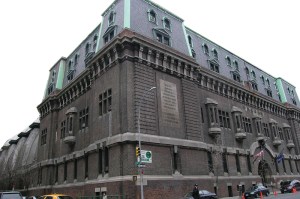 I love a good armory, and given the fact that gays are not allowed in the military, I am continually surprised at how much time I spend flaunting myself at various armories. Which armories? Any armories. Ironic, isn't it? We poofters are not deemed combat-worthy, but we are, for some reason, considered to be armory-worthy.
On Thursday, Jan. 28, I headed to the Park Avenue Armory for the Winter Antiques Show Young Collectors' Night, hosted by various members of the jeunesse dorée, including the hauntingly beautiful Georgina B. Schaeffer and hauntingly monikered Kipton Cronkite. I arrived on the early side—all the hosts were still at home primping and generally emphasizing all that annoying youth—so that I could zip around and check out the merch and, most importantly, the prices.
Two Syrie Maugham chairs from Liz O'Brien? Twenty thousand. An opal-encrusted gold Art Nouveau cuff from Macklowe? Twenty-five thousand. Sounds high, right? You ain't seen nothing yet, baby. Just wait till you check out the price tags on all that suicide-inducing Early Americana. In the history of tchotchkes, has there ever been such an incomprehensible contrast between the grimness of a particular style and the market value thereof? How much is that beaten-up, dour, early 19th-century chest of drawers? Oh, that would be $250,000 bucks, buddy.
This subject, I admit, is something of a bête noir for moi. I have written about it before in this very column. Maybe it's time to let it go and allow the healing to begin. Maybe I should stop trying to understand the Early American situation and just shut my philistine gob. Maybe, just as with the military, this is a heteros-only zone. After all, what self-respecting invert would ever covet a $20,000 Nantucket muffin basket?
Speaking of men in uniform: The night before my trip to the Armory, I happened to catch Obama's State of the Union speech, wherein he announced his intention to "work with the military" to change Don't Ask Don't Tell. I was shocked by the stone-faced reaction of the generals and colonels in the front row. They remained seated while the rest of the Senate rose, knees cracking, to its feet. WTF?
Here's how I see it: The gays have, despite a consistently negative and gnarly response, loudly and bravely trumpeted their willingness to fight for their country. At this point in history, those military high-ups should be jumping up and down with shock and awe that gays are, even after all the hating, still willing to give it a whirl.
As the Armory began filling up with the usual perfumed and powdered lorgnette-wielding connoisseurs (and that's just the men!), I donned my new forest-green Moncler and leapt into a cab, where the following interchange took place:
Me: "Please take me to the Armory." Cab driver: "This IS the Armory." Me: "No. I mean the other one, down on 26th Street and Lex."
As he drove downtown, my cabbie intermittently gave me this piercing look in the rear-view mirror. It was as if he had uncovered an unsavory fetish. "I've got your number: Admit it! You're a total armory-queen, aren't you?" his accusing eyes seemed to say.
The 26th Street Armory was packed with glamorous funsters, very few of whom would be allowed to serve openly in the military. The occasion was—hello!—a celebration of Preston Bailey's latest party décor book, titled, as it so happens, Celebrations.
This Armory—I have lost track of how many Marc Jacobs shows and bar mitzvahs I have attended in its hallowed halls—was über-transformed with Mr. Bailey's stupendously bold and gorgeous trademark gestures: chiffon trees, giant votive balls and dramatic shock 'n' awe lighting. (And that was just … the décor.) Among the notables—Billy Joel ex Katie Lee, Toukie Smith, Joan Rivers, Nate Berkus, country singer Clay Walker and more—was Preston's chanteur boyfriend, Theo Bleckmann. At the Grammies, his album Shumann's Favored Bar Songs was up against Yo-Yo Ma's Songs of Joy and Peace. I gave him subtle tips on how to upstage Yo-Yo, as in "If all else fails, just hit him with his cello." Who says the gays aren't good in combat?
p.s. Yo-Yo won. Darn!