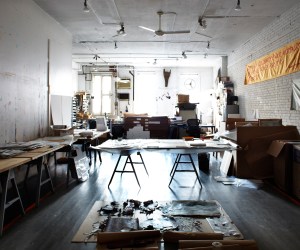 Nearly four decades ago, when artists Leon Golub and Nancy Spero moved into the Greenwich Village loft they used both as studio and living space, the Village was still "the Village" and neighbors were more Allen Ginsberg than Senor Swanky's.
The couple met in the late 1940s at the Art Institute of Chicago. Their partnership, personal and professional, continued for almost a half-century. Both were intrepid modernist explorers.
Golub, whose large-scale paintings drew inspiration from everything from Greek kouroi to images of male pornography, used a technique that was more sculpture than brushstroke, famously using a meat cleaver to create aggressive peaks on the canvas. Spero used her art to reflect her feminist worldview. All this happened within four walls on LaGuardia Place, now available for $845 a square foot.
Golub died from post-surgical complications in 2004 at the age of 82. Spero passed away in October from heart failure; she was 83. The studio the two shared is now listed through Brown Harris Stevens' broker-and art appreciator-Joan Goldberg for $2.7 million.
While many brokers would have cleared the space and white-washed the walls of the co-op, Ms. Goldberg (herself a fellow Chicago Art Institute alum) wouldn't dream of it. "You know, I brought an architect with me when I went to see it for the first time because I knew I wouldn't be able to concentrate," she said. "I needed him to assess the options because I knew I wouldn't want to change anything."
The loft is a "true artist's studio," says Ms. Goldberg, and to best display the loft's charm and grit she enlisted the help of a client, photographer Simon Watson, who agreed to photograph the loft for free as an homage to Spero. "I would never have been able to afford Simon; he's a big deal. But he's a great admirer of Nancy's work and so he did them as a huge kindness."
A direct elevator opens onto the 3,200-square-foot loft. The main open workspace feeds into two small bedrooms set against the backdrop of exposed brick, hardwood floors and 12-foot ceilings. Golub's work has been removed from the space and archived since his death five years ago, while Spero's touch remains in the studio, alongside remnants of her work and her used supplies-living ghosts of the artist and her beloved.
Of Mr. Watson's photography, Ms. Goldberg explained, "I felt that it was very important that someone who really understood what they were seeing convey the incredible qualities of this hallowed space. This is art history. This is what Greenwich Village was about. Very little is left of that time."