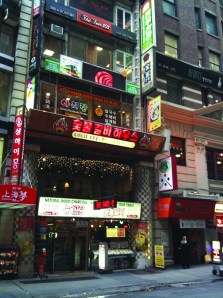 Koreatown unfolds like a blip in the consciousness of midtown. It's where the city abruptly departs from its staid brick assonance and, for a span of roughly three short blocks, digresses into a frenzy of barbecue and lights. Koreatown has somehow at once managed to wedge itself smack in the middle of everything and remain largely invisible. Hovering at the southern fringe of midtown, not quite Murray Hill, not quite Chelsea, it's a cartographic no man's land hiding in plain sight.
By day, the neighborhood—if you can call it a neighborhood—is a condensed jumble of signs, all clamoring for attention in two languages and about a thousand different shades of neon yellow. But the real Koreatown happens at night. On weekends, West 32nd Street turns into a 24-hour playground, a kind of noir wonderland where barbecues and spas and karaoke joints all stack up on top of each other and nothing ever closes.
You have to really peel back the street's glittering confetti to take in the buildings sitting mute behind it all, the anonymous brick and limestone pasted with the sediment of accumulated decades. If you can see past the blinking lights, past the signs, the six-story building at 32 West 32nd Street reveals its past in a faintly emblazoned facade: "Bergdorf Building."
The name "Bergdorf," of course, would go on to become half of that most lavish, ladies-who-lunch department store, where Mahattanites not only accrued the regalia of a moneyed lifestyle but luxuriated in the marble-encased trappings of money itself. But, in 1899, Bergdorf's was an unremarkable side-street tailor shop at a truly remarkable time in tailoring. With the rise of manufacturing, methods of production and lifestyles both were speeding up, racing toward a streamlined industrial horizon. Caught in the middle of it all was Herman Bergdorf, a tailor with more luck than talent, and a greater passion for wine than for his craft. It took Edwin Goodman, his ambitious young apprentice, to recognize the bend that manufacturing had thrown into history, a bend he leaned on heavily to refashion the women's ready-made garment industry.
The manufacturing industry, which transformed the garment district more than a century ago, has more recently transformed it again—this time by all but disappearing. It wasn't a sudden disappearance, and it was one that was slow to sink in, perhaps because the garment industry has always been something of an invisible one. It didn't require much room, its cutting rooms and zipper shops cropping up in brownstones, boutiques, sweatshops, excess office space, just about anywhere at all. It filled up the margins of midtown, propelled by the largely invisible workforce that always fills those margins—New York's steady stream of immigrant labor.
But, in recent decades, Manhattan rents and cheap overseas production have whittled away at the Garment District's edges. It shrunk northward, even as the city's zoning protections limited the conversion of factory space into more profitable offices. (The protections themselves may soon vanish, as protestations of landlords grow louder.)
At 32 West 32nd Street, the climb to the K-pop blaring karaoke bar—past the barbecue, the noodle shop, the eyelash salon—takes you up rasping wooden stairs, likely unchanged since their tailor-shop days. With a notable exception: The walls have been painted with cartoon Korean children, cavorting in the dim light like mutant hieroglyphs from one of Herman Bergdorf's drunken dreams. It's one of those strange New York corners where you can't quite tell if the hasty brushstrokes of the present are infringing on the past, or if it's the other way around.