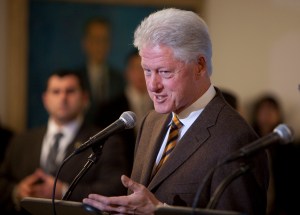 Bill Clinton was taken to Columbia Presbyterian this afternoon with chest pains and had two stents inserted in one of his arteries.
"President Clinton is in good spirits and will continue to focus on the work of his foundation and Haiti's relief and long-term recovery efforts," said his attorney, Douglas J. Band, in a statement.
Mr. Clinton had a quadruple bypass in 2004.
Hillary Clinton apparently received the news after concluding a meeting with President Obama. From ABC News:
Sources on Capitol Hill tell ABC News that Secretary of State Hillary Clinton was seen leaving the Oval Office a short time ago and did not seem "too concerned" or "in a rush."
The Times reported the secretary of state is on her way to New York City.