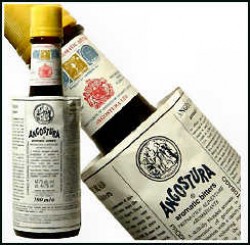 Sandee Wright is down to her last bottle of Angostura bitters. This wouldn't trouble most New Yorkers, but the owner of Whiskey Ward on the Lower East Side sells cocktails for a living, and to her and the other bartenders who have made their name in the craft cocktails movement of the last decade, bitters matter. Dozens of drinks new and old call for Angostura, and without a few drops, a Manhattan is flatter than fruit juice. In the last few months a nationwide shortage of the product has developed, and New York grocery distributors are either completely out or have been forced to ration sales.
Meanwhile, local bitters producers, like Rochester-based Fee Brothers, are trying to take advantage of the industry standard's misstep.
"[My supplier] has been out of it for about four months now," Ms. Wright said. "One of my bartenders told me that the bodega up by his apartment has some, and, provided the expiration date's O.K., I'm gonna have him buy some for us."
The roots of the drought stretch back to the summer, when a problem with their bottle supplier forced the Trinidad-based House of Angostura to slow down production. Because recipes rarely call for more than a "dash" of bitters, a case can last months, meaning that local owners only noticed the problem when restocking in the wake of the holiday binge.
Some bars are in better shape than others. Justin Ruotolo, who co-owns Whiskey Town (unaffiliated with Ms. Wright's Whiskey Ward) with his brother, has been able to live off the stock at a nearby deli. (The bar's at Second Avenue and Third Street—desperate mixologists take note!) And a bartender at the Pegu Club, on Houston, said that their general manager, James Tune, has an "in" with Angostura, and was able to stock up before the shortage took hold. Mr. Tune declined to comment.
Angostura PR manager Giselle Laronde-West insisted that production "is back on track," and that shipments delivered to the U.S. in October should have covered demand. Apparently not. While Ms. Wright is scouring bodegas, William Tigertt, owner of Freemans Restaurant, which lies in a small alley off of Rivington Street, has looked all over the country for the squat brown bottle with the oversized label.
"I just heard recently that some people in San Francisco got a new shipment," he said, hopefully. He called Angostura "the prototype" and likened its iconic quality to that of Levi's Jeans. "There's tons of other options, but the standard is gone."
If Angostura is Levi's, call Fee Brothers Diesel. Their extensive line of flavored bitters ranges from grapefruit to rhubarb, but also includes an "Old Fashion Bitters," which Joe Fee, who runs the company with his sister and their 88-year-old father, said that they "can be used interchangeably" with the more famous Angostura.
"The shortage has brought quite a bit of attention to us," Mr. Fee said, "and quite a lot of business." He made clear that he wished his Caribbean competitors well, but seemed happy to step into their gap. "We've had the opportunity to get our products into the hands of people who have only ever used Angostura brand bitters, and that's really been our goal."
Aaron Polsky, who bartends on Essex Street at Sasha Petraske's White Star, is comfortable using Fee Brothers in a Manhattan. "Only through the prevalence of Angostura bitters have bartenders traditionally come to use them," he said. "One hundred years ago, 70 years ago, people were using something else."
And Ms. Wright was also confident that the shortage, though annoying, was not the bartending apocalypse. "It's not like they discontinued orange juice," she said.
Still, a Manhattan informally sampled Thursday night at Le Zie 2000 Trattoria on Seventh Avenue was lifeless. Whether through inept bartending or an attempt at conservation, it was bitters that were missing. — William Akers