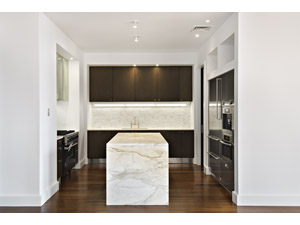 Dubbed by its listing as "the superlative apartment in a building filled with apartments beyond compare," the 17th-floor loft at 15 Madison Square North must indeed be something. Otherwise, it would be tough to explain the 2007-like bidding war.
According to city records, hedge funder Anand Desai and wife Erica recently paid $12 million for the 14-foot-high-ceilinged, freshly renovated apartment on the edge of Madison Square Park. A high price, but not that unusual for more than 5,000 square feet of loping loft space.
The catch was that an earlier listing price pegged the condo at $9.95 million, chopped from an original early 2009 asking price of $13.5 million. Was the $2 million-plus jump from $9.95 million to the closing price of $12 million a typo or evidence of a high-flying bidding war, the sort not common in these parts since Lehman Brothers went kaput in September 2008?
The latter proved to be true.
Corcoran Sunshine Marketing Group was reticent to comment on whether, in fact, there was a bidding war showdown in Madison Square Park. Tricia Cole, the group's executive managing director, said only that she was not currently in a position to comment. But the group did offer the following official explanation: "Listed early in 2009 at $13.5 million, the price was later reduced in order to draw a larger audience of interested buyers. In this case, our reduced price generated significant interest and multiple bidders for this wonderful home, which in the end drove the price back up. As is always true in an efficient market, the market ultimately sets the price."
And apparently the market was hopping. "This really does show the efficiency of the market," said Louise Phillips Forbes, a top broker with Halstead who was not involved in this particular deal. She was speaking generally about an uptick in bidding wars in New York. "The market is catching up. The truth is, maybe not across the U.S, but in New York proper, where our economy is responding to all of the efforts that have been put into helping it, I am seeing bidding wars at every scale. This is what we are dealing with for great, unique properties."
In 2006, the top 12 floors of the 20-story office building at 15 East 26th Street were converted to deluxe residential condos. Officially known as 15 Madison Square North, the converted residential floors are almost sold out, according to Ms. Cole.
All have views, of course, of the wholesale district north of Madison Square Park and east of Broadway that is one of the only unnamed neighborhoods on those taxi maps of Manhattan. However, an overhaul of this neighborhood's image is swift underfoot-one hotelier has tried to make the acronym NoMad (North of Madison Square Park) stick as a new Tribeca. Which begs the question, evinced by this $12 million deal borne of an apparent bidding war: Has NoMad started to settle down?
cmalle@observer.com