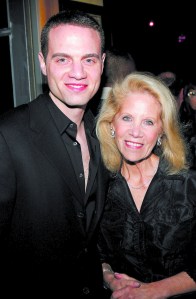 Wunderkind Broadway baron Jordan Roth, president and co-owner of Jujamcyn Theaters, one of the district's heaviest hitters, recently bought a $13.1 million apartment at the Superior Ink building on the West Village waterfront, etching another mark on the building's high-profile totem pole. The glitzy Robert A.M. Stern-designed condo colossus, which has been heralded as the 15 Central Park West of downtown, counts an ever-growing number of boldface names as buyers.
The 33-year-old Mr. Roth, president of the theater company since last fall, and his partner, Richie Jackson, a producer of the Showtime series Nurse Jackie, will share elevators with the likes of Hilary Swank, Marc Jacobs, NASCAR champ Jimmie Johnson, Showtime CEO Matthew Blank, Houston Rockets owner Les Alexander and South African mogul Mark Shuttleworth.
Although Mr. Roth's name appears on the deed, his representative assured The Observer that the recently purchased apartment is a joint venture between Messrs. Roth and Jackson, who were looking for a larger living space to raise their child. The 15-story complex, which houses 67 apartments and seven townhouses, offers amenities that include a private screening room, convenient for the arts-minded pair, as well as a fitness center with a yoga and Pilates studio, a children's playroom for their tot and an entertainment lounge for celebrity mingling. The couple bought a top-floor unit measuring 4,116 square feet, with five bedrooms and 5.5 bathrooms.
Mr. Roth, who has helped bring such Broadway breakouts as Spring Awakening, Hair and this season's Fela! to the Jujamcyn theaters, is the son of Broadway's lovely fairy godmother, Daryl Roth (pictured with him), who has produced six Pulitzer Prize-winning plays, and Steve Roth, the fearsome chairman of commercial real estate giant Vornado Realty Trust.
Of his ascension to the Jujamcyn presidency, the Princeton grad told The New York Times last fall: "I am a different person than we've had in this kind of position in our business. Let's just state the obvious: My age provides for a different perspective, a different way of looking at the world."
cmalle@observer.com