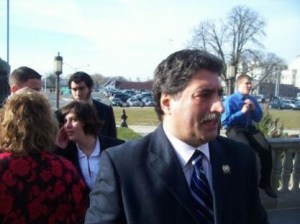 Assemblyman Tony Chiappone (D-Bayonne) moments ago pulled petitions to run for mayor of Bayonne.
"Yes, I am," Chiappone told PolitickerNJ.com when asked if he is running for mayor.
Under indictment for allegedly funneling aides' paychecks into his personal and campaign accounts, Chiappone last year won re-election to the assembly without serious opposition.
In the 2008 special mayor's election, the state lawmaker was a staunch, door-to-door ally of Judge Pat Conaghan, who lost to Mayor Mark Smith.
Now Chiappone appears intent on challenging Smith himself.
Chiappone insisted he's running. This is not a ruse to get a job or to throw his opponents into a momentary tizzy only so that he can turn around later with an announcement that he's reconsidered after taking some measure of delight in their frenzy.
"I wouldn't mislead people who feel I give them some hope," said the assemblyman.
His one-time ally turned star witness against him, Councilman Gary La Pelusa, has also taken out petitions to run for mayor – and also to run for council.
Chiappone sees La Pelusa as a once promising protege who misrepresented the truth in trying to take him down. Moreover, he doesn't believe La Pelusa actually intends to run for mayor – unlike himself.
"My roots have always been on the municipal level," he said. "It's a desire I have to serve, that's what's motivating me to get in this race. That and a feeling I have that I could do a better job than Mark Smith is doing. I'm running to bring a regular person's perspective."
As for the indictment, Chiappone figures he just won one election with that piece of bad news hanging over him.
He can do it again.
"I put my faith in the voters," he said. "People have been great with me. People see that the indictments are politically driven. If that's all Mark Smith has to attack me, it just shows the shallowness of his campaign. I feel the citizens of Bayonne have my back."