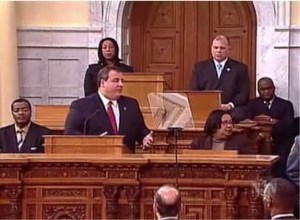 Saying that New Jersey is in a financial state of crisis, Gov. Christopher Christie today called for widespread spending cuts – including subsidies to New Jersey Transit — to deal with a $2 billion budget gap he says he inherited from his predecessor. Christie said his proposals will not include tax increases.
"Higher taxes is the road to ruin, said Christie.
"The days of Alice in Wonderland budgeting in Trenton will end," said Christie, who said he will end budgets that contain "tricks of the trade" that have become commonplace.