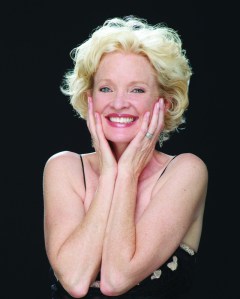 Christine Ebersole at Café Carlyle
Spinning gold with her hair and her voice, Christine Ebersole is warming up the entire month of February at the Café Carlyle with a collection of fresh and surprising love songs that you can truly label an unalloyed delight. We all know the two-time Tony winner can act. But what a treat to hear a beautiful and radiant lady with a flawless voice dispense gorgeous, meticulously selected musical tone poems without an annoying theme to hold her back. Oh, sure, she says that the funny, charming little short stories pruned from her own life that form the witty patter between songs do add up to certain introductory themes about sex, politics, religion and romance. But this is a stretch. Searching with my eye peeled for continuity, I found the glue in the cracks of this act with no name pretty runny. When she talks, it's a kind of Faulknerian stream of consciousness. When she sings, she holds you captive. If you long for the old nightclub acts "in the day" that consisted of terrific entertainers singing songs they loved and longed to share with no motive except entertainment, then this one is for you.
On one of the coldest opening nights of the year, the band (led by Rosemary Clooney's ace pianist-arranger, John Oddo, with a sensational trio of David Finck on bass, David Ratajczak on drums and David Mann on reeds) opened with a curious, head-scratching version of "Hawaiian War Chant" that paved the way for her entrance, followed by "Too Darn Hot," calling it a global warming favorite of Al Gore's. The act that followed promised "no holds barred"—and brother, she proves it. A brief discussion of how the Carlyle is a throwback to the old Walter Winchell days ("a hotbed of blind items") leads into the great Sam Coslow ballad "I'm in Love with the Honorable Mr. So and So," and you can just imagine one of the girls stashed away in an upstairs hotel room, waiting for a famous lover to show up after the flashbulbs stop popping. A sad story about wanting to put the name of a dead chihuahua named Chi-Chi on a souvenir hat at Disneyland and a call for security because the name was Spanish for a female body part was pretty funny, but what does it have to do with what came next—torching a soulful "Stormy Weather"? If you're smart, you'll stop trying to figure it all out, close your eyes and let the musical interludes move into your heart. Connecting the bizarre patter with the beautiful singing will only leave you bewitched, bothered and baffled.
But what songs! I have never heard Ira Gershwin's lyrics to "I've Got a Crush on You" sung with more understated passion, or swooned so dreamily to the subtext of Jerome Kern's ultimate retirement song "The Folks Who Live on the Hill." Ogden Nash's sophistication comes through with rays of warmth on Kurt Weill's melodic "That's Him" ("You know the way you feel when you smell bread baking/ The way you feel when suddenly a tooth stops aching … that's him"). Joyce Kilmer's poem about how "only God can make a tree" leads into the most gently swinging "Sunny Side of the Street" imaginable. Tree? Street? Go figure. I told you it's an "act" that is pretty darn next door to indescribable. She closes with Noël Coward's heartbreaking "I'll See You Again," and with the sublime, soignée, carefree Christine Ebersole, you can only pray that she means it.
rreed@observer.com