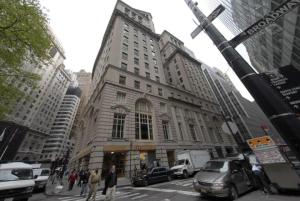 The site of the overpriced and short-lived Sports Museum of America has fallen into city hands. The School Construction Authority, a wing of the city's Department of Education, has signed a more than 20-year lease for the 106,000-square-foot space.
The city is nowhere near as glamorous a tenant as the Sports Museum, but it's certainly a more reliable source of rent. The Sports Museum opened in May 2008 to much fanfare, with a mission to "to celebrate the breadth and depth of America's enduring love affair with sports." It closed in February 2009 in the depths of the recession after being unable to service its debt or attract the number of visitors originally envisioned (perhaps because the museum initially charged $27 a ticket).
Finding a new tenant for the cavernous space in the old Standard Oil building was something of an acrobatic task for Newmark Knight Frank's Jimmy Kuhn and Howard Kesseler, who represented both the landlord, The Chetrit Group, and the new tenant. The Chetrit Group bought the ground-lease for the Beaux-Arts building in 2007 for $225 million. Because the school needed a long-term lease—longer than the remaining length of the ground-lease—and because the lender would not refinance the debt on the property without a long-term tenant, completing the deal required the Chetrit Group to buy some of the land beneath the building from the Smathers family.
The Department of Education did not immediately respond to a request for comment on its plans for the new space.
But Mr. Kesseler told The Observer that, "It's going to be a fabulous school. It's got those Beaux-Arts windows. The ground floor is magnificent. It's got really high ceilings. It's really a beautiful, special space."